Angkor – Land of Dharmic Faiths and Khmer Architecture, which borrows some of the architectural practices from the South Indian Pallava/Chola architecture. It is the land of Hindus and Buddhists. This would be surprising for even Indians or Nepalis (as these countries have significant Hindu population) that there are some spectacular architectural marvels representing Dharmic culture existing outside of India(the other being Prambanan temple in Central Java, Indonesia). Even across the globe many would have known of architectures like Romanesque, Gothic, Renaissance and Baroque, but it is rare people knew of  Khmer Architecture outside of Cambodia. Angkor in Siem Reap Province, Cambodia stands testimony to this particular architecture with its breathtaking Hindu and Buddhist temples, and I had this once in a lifetime opportunity to visit this marvelous site in 2008. The place represents the harmony between these two ancient Dharmic faiths as I witnessed people of these two faiths praying in each other's temples. Uproot Siem Reap and bring it to India and one would see opulence like Taj Mahal  in comparison.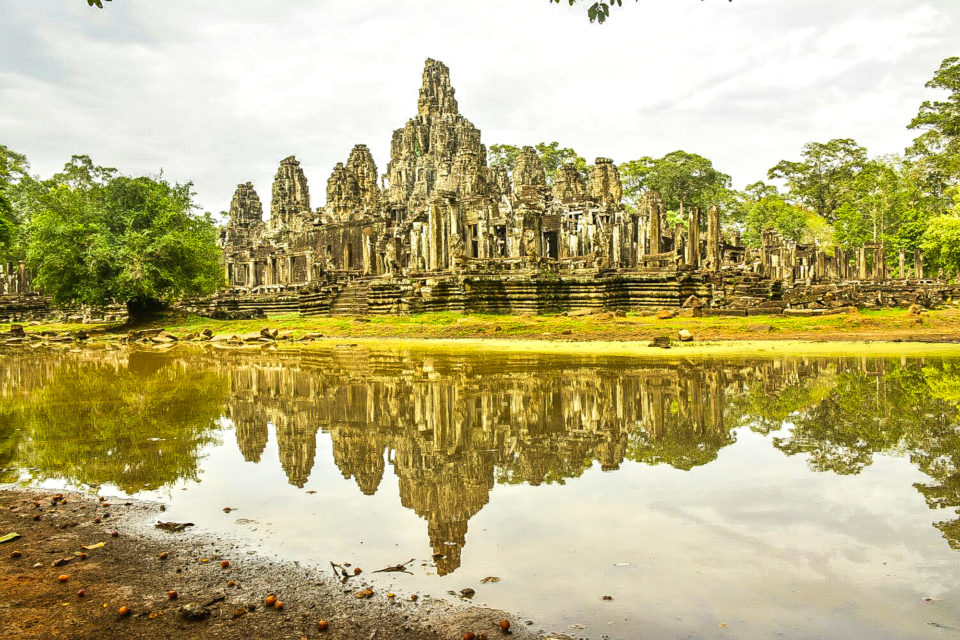 Today Angkor, the region as it is called, has multiple architectural wonders such as Angkor Wat, Angkor Thom, Phnom Kulen, Beng Mealea and Koh Ker. I mention it as multiple architectural wonders due to the archaeological excavations at different times at these sites, though the assumption is these are parts of the contiguous Angkor region. A comprehensive archaelogical map of greater Angkor, covering nearly 3000 square kilometeres, prepared by the Greater Angkor Project (GAP) reveals a vast, settlement with an elaborate water management network covering 1000 square km, making Angkor the largest urban complex before the industrialization period.  It is believed that Phnom Kulen or Mahendraparvatha, which predates Angkor Wat by 350 years, once excavated completely, will dwarf Angkor Thom. Angkor Wat is the largest Hindu temple in the world built in 12th century by King Suryavarman II, who was a contemporary to the Chola Emperor, Kulothunga Chola, grandson of the Great Rajendra Chola, I. The temple later was converted into a Buddhist temple  by the Khmer kings, who adopted Buddhism as their religion, but it still reflects "Meru mountain", home of the devas in Hindu mythology. The other magnificent construction  is Angkor city or Angkor Thom.
Angkor Thom, one of the major complexes within Angkor, has a grand entrance as a precursor to the marvel waiting to unravel as one proceeds through the gates of Angkor Thom. It has a bridge with railings depicting the story of the "Ocean of the milk" from the Hindu mythology with Asura statues lined up on one side of the bridge and Naga serpent being held by the Asura statues completing the railing and  Devas statues lined up on the other side with Naga Serpent. Many of these Asura and Deva statues were desecrated by the Khmer Rouge who were hidden in these parts of the country, when they removed many of these heads to fund the war against Vietnamese forces, who invaded Cambodia in 1979 and got rid of the  murderous regime of Khmer Rouge. At the heart of the Angkor Thom is the Bayon temple, which was originally Buddhist temple, and was converted to a hindu temple with Shiva Linga by a later Angkor King, who practised Hinduism. Angkor  has more than 1000 odd temples but some of the prominent ones are Angkor Wat, Bayon, Ta prom or Jungle temple, and temple of the leper king.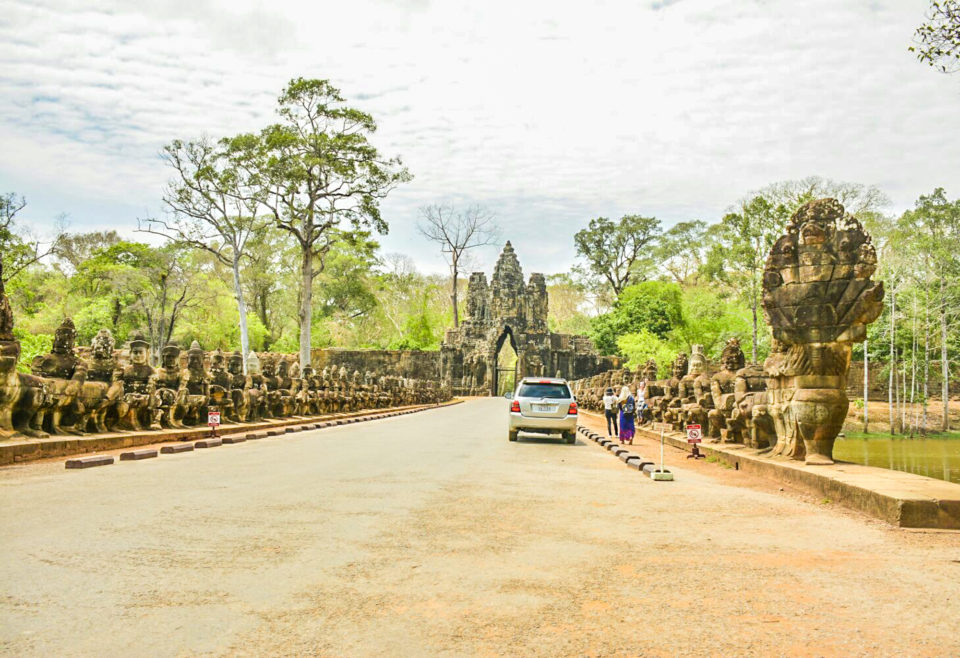 I travelled from Phnom Penh (as part of my Indochina backpack tour in 2008) in a bus for a 7 hour journey to Siem Reap along with a friend where I was surprised to find  a tuk-tuk  waiting to pick us up due to the information shared between the bus corporation and the tuk-tuk driver. The tuk-tuk driver, John, spoke good English and arranged for a very good accommodation as well for a pittance. We made use of his service for the next two days we were there. That evening we went to Ta Keo to see the sunset. Though I was disappointed not being able to see the sunset due to cloudy conditions, I was surprised to see the Nandi (Lord Shiva's mount – the Bull) and realized that Ta Keo was a Shiva temple. The Nandi is still worshipped as seen by the saffron cloth around its neck, and I observed an old lady from Fiji praying to the Nandi.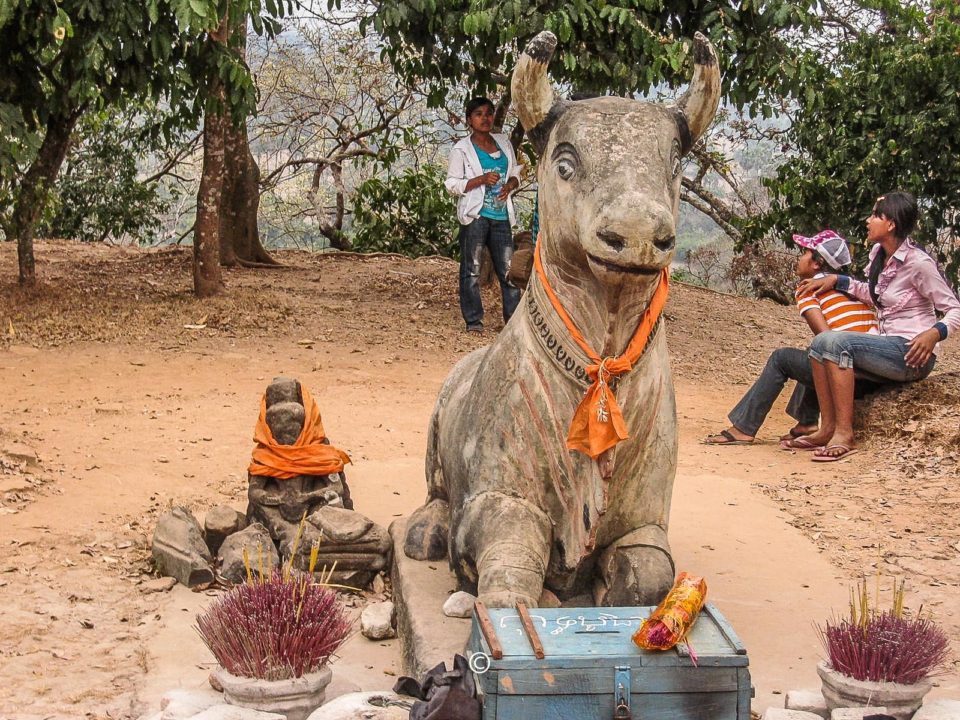 We came back to the hotel, and saw the presence of ubiquitous foot massage, and body massage centers in Siem Reap city for less than $10 per hour for the travel weary body and legs. After catching up with the dinner in one of the roadside eateries, where we had an interesting conversation with a lady from Ireland, who mentioned that she is on a world trip for more than a year after a messy divorce, we visited a night market called Angkor night market comprising of more than 200 souvenir shops open for a visit late evening, and saw the atmosphere was vibrant. We had a massage at Dr. Fish massage, a place where your tired feet dipped in water is massaged by numerous fishes taking a miniscule bite at your dry skin in the feet. Next day,  John, the tuk-tuk driver came and picked us up early morning at 4:15 am to see the sunrise at Angkor Wat. The Angkor Wat sunrise was mesmerizing that I was awestruck and was rooted for 4 hours taking series of pictures with both the camera, and the cell phone, a lifetime accomplishment considering that I have a very restless personality .Once we were done with the sunrise, we walked around Angkor Wat, though entry inside is restricted due to the damage caused to the structure by the tourists and ongoing renovations. Angkor Wat is a Vishnu temple as I mentioned above, though later it was converted into Buddhist temple by the kings based upon the religious affiliation at that time. Angkor Wat is depicted in the current flag of the Kingdom of Cambodia.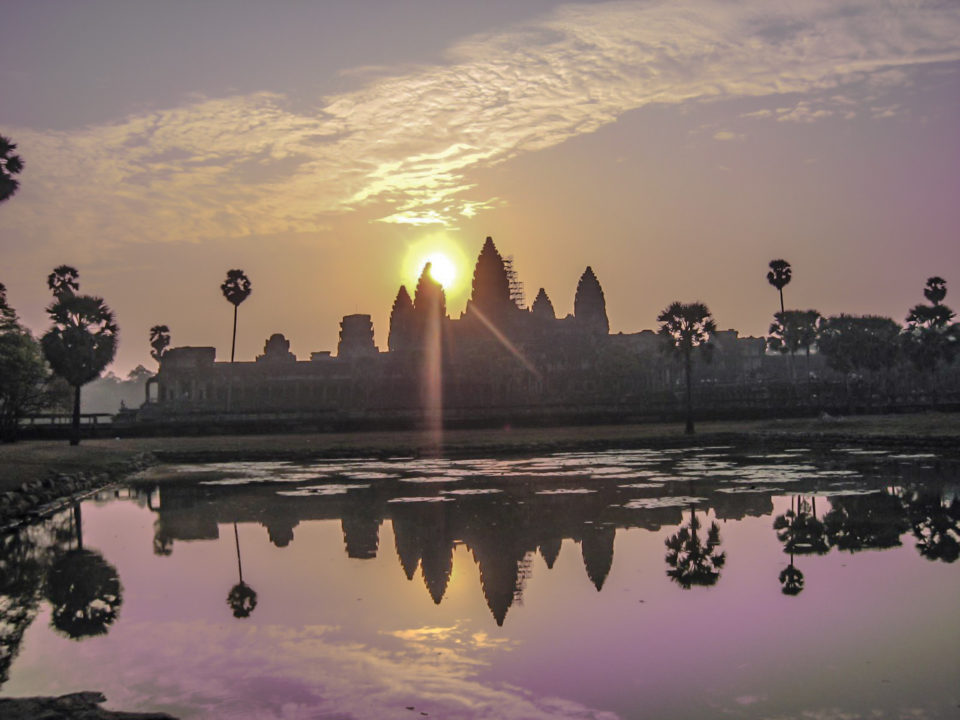 We returned back to the hotel to catch-up for breakfast, and we went back to see different temples including Ta Prohm shown in the Angelina Jolie's Tomb Raider. But the very impressive temple was the Bayon, which was originally a Buddhist temple but later converted to a Hindu temple by the then king, who threw away the Buddha statues inside into a nearby well and replaced them with Shiva Lingas. Bayon is truly the crown jewel of Angkor Thom and the striking feature is the 216 faces of  Bodhisattva Avalokiteshvara carved on the gigantic towers.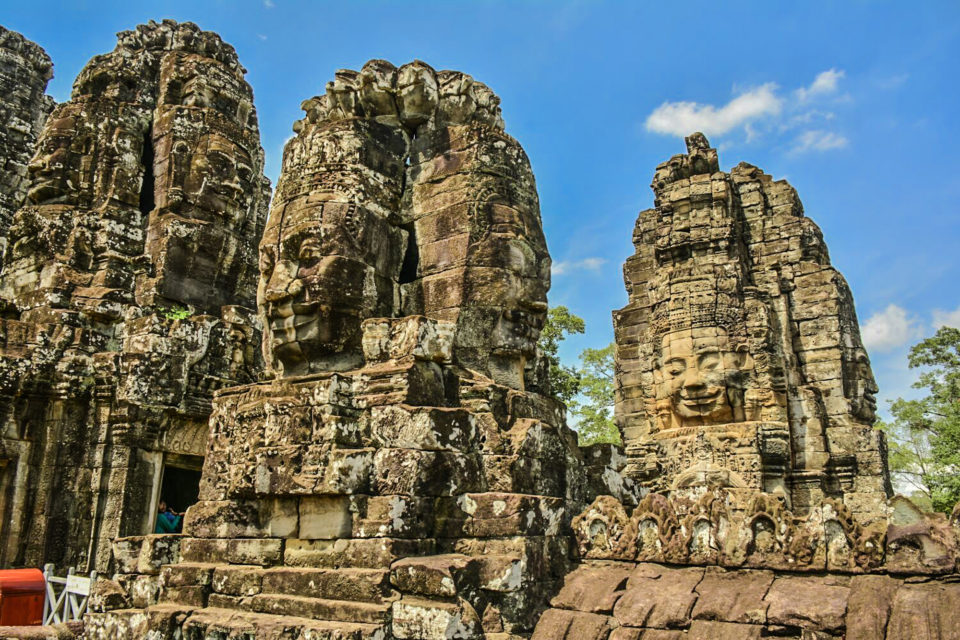 Though we tried to cover as many temples we could in a single day we were disappointed, that we could see less than 15 temples for that day, and regretted our poor planning though the backpack trip took us more than 4 months of planning and almost every day calls between friends. Truth be told, we never anticipated such a wonder, and if we had even a slight inkling we would have dropped Phnom Penh from our planning. We had just  spent a depressing 3 days after getting to visit Tuol Sleng Genocide Museum and Killings Fields – two symbols of the genocidal regime of Khmer Rouge which had caused havoc to Cambodia between 1975 and 1979.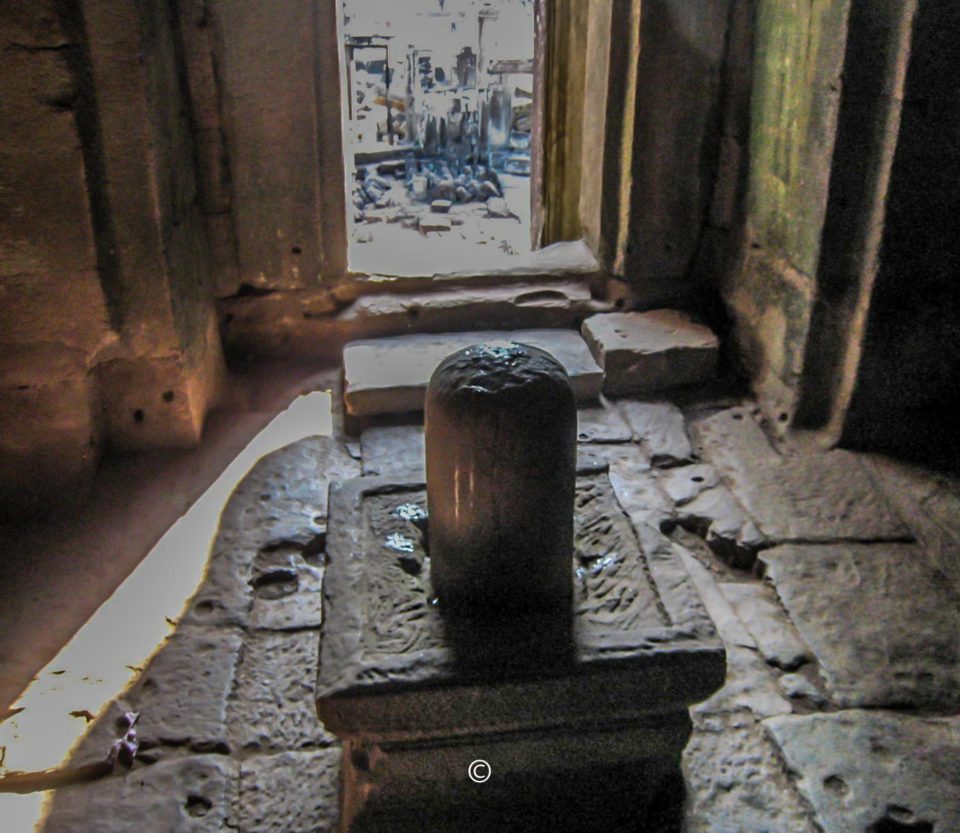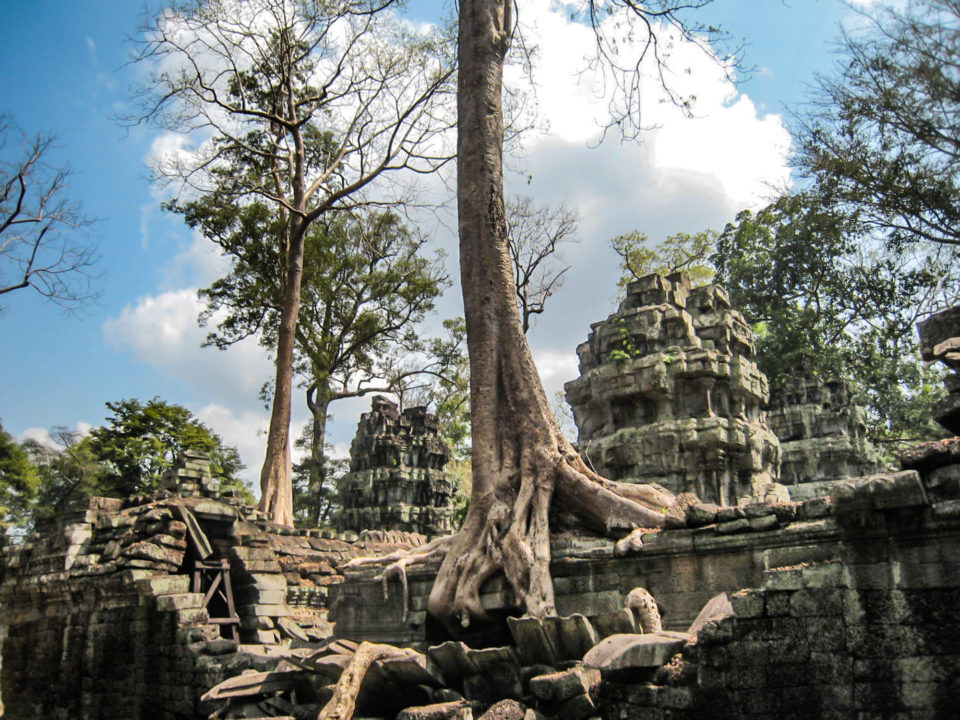 Once we were done seeing Siem Reap, we took a cab to the border town of Poipet on the Cambodia side of Thailand/Cambodia border after paying $30 for the trip, got the visa from the immigration of Thailand, entered into Thailand and took a tuk-tuk to the train station at Aranyaprathet where we took the 13:30 hrs train to Hua Lam Pong station, Bangkok which was a 8 hour travel.In conclusion, I should say that words (and the pictures here) does not do even a small percentage of justice to one of the truly spectacular architectural splendors.  And it reminds me of Seinfeld's Jackie Chiles' quotes, "Egregious, Outrageous, Preposterous," when I think that these archaeological marvels were left out of the New 7 World wonders list. I have since been feeling that the list has lost its credibility.
Tips
For any travel related questions to Siem Reap, refer to www.travelfish.org, the gold standard for SE Asia travel guide and www.seat61.com for travel options.
Also Read: