Hue', Vietnam – city which triggered an emotional rollercoaster within me
             Hue', pronounced as 'Hu-ay', the imperial capital of Vietnam till 1945, similar to Peking (or Beijing, China as it is called nowadays) with its Forbidden City though in a small scale. The city contains the Imperial city in turn containing the  Purple Forbidden city, in short, a city within a city within a city. The city is located roughly half way through between Hanoi and Saigon in Vietnam.The palace was damaged pretty badly by US bombing during the Vietnam war. Another ignominy Hue' had is that the people were massacred around the sametime by the North Vietnam supported Communists. But I could see through the destruction, the glorious past of the palace with some sublime architecture. The Forbidden city is listed in the UNESCO site since 1993.
         The city's main attractions are the Imperial city surrounded by a Citadel with a moat and the different tombs of the emperors of Nguyen dynasty. The Imperial city is open in the morning at 6:30 am and closely around 5 pm in the evening and there is an entry fee of about 6$ for foreigners. Locals are charged differently.
         To explain the layout, the palace is surrounded by a 10 km (roughly 6 mile) moat with the citadel inside with 2 meter(2.18 yards) thick stone walls. Inside it is the Imperial city with another moat with walls within which was a network of palaces, gates and courtyards and this network is called the 'Purple Forbidden city'. The outer citadel with its moat sits on the Perfume river.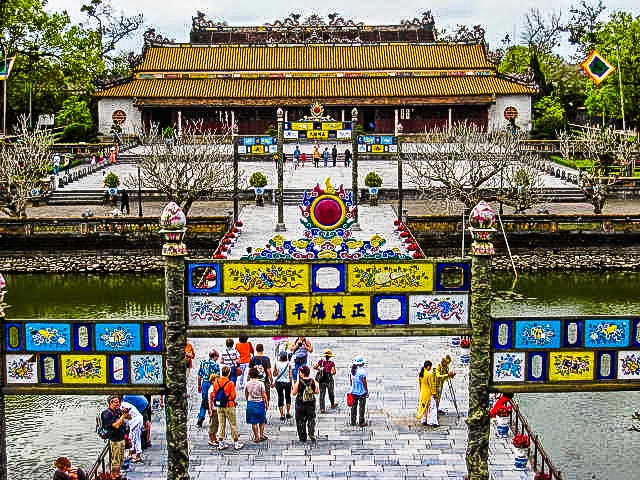 I was there, along with my friend from college and now in US, in 2008 Feb as part of my backpack trip to SE Asia or Indochina as that region of Vietnam,Cambodia,Laos, Thailand, Malaysia is called. I had taken a train from Hanoi, a sleeper class train in the night around 11 pm and ended up reaching Hue after 11 hours of comfortable train journey and getting a glimpse of the Vietnam countryside which was very scenic. We checked into a small hotel near Restaurant Omar Khayyam, an Indian restaurant, just to refresh ourselves and get going.  We hired a Xe Om, which by then had become our preferred mode of transportation in Vietnam, to go to the Purple forbidden city. We could see the grandeur design from outside unravelling. We entered the purple forbidden city through the Ngo Mon Gate,the principal entrance to see the prime attraction – Thai Hoa palace. There were  different temples and palaces displaying costumes and arts of those times providing a glimpse of the past. Many of the buildings were undergoing renovations, which was due to complete next year (2015)
               We walked around the city of Hue to catchup with the lunch before we went to visit few tombs of the emperors. But there was a movement in Hue', which left a lasting impression in me and influenced me to make a life changing decision. Murali and I were wearing the Good Morning Vietnam Tshirts (Tshirts in Vietnam were of very good quality, I should say) and there were about 20 to 30 girls riding bicycles and in white Ao Dai, the Vietnamese national dress, which incidentally originated from the Imperial City. The girls were giggling looking at us and it took us a while to understand that they were doing so looking at the Tshirts we were wearing.We smiled back at the beautiful little angels in their Ao Dais which left a lasting impression on me. I later found out that the girls were from University of Hue. I should say, that was the moment, my parental instinct kicked in and I opted to adopt baby from oriental culture.(though when Hema and I started our adoption process, Vietnam had stopped the adoption and we had to go back to India after exploring 15 other countries for adoption. I will stop here in the interest of not digressing  too much)
                 After we grabbed our lunch in a small eatery, which was predictably the Pho soup, we took a Xe Om to go to the Tomb of Emperor Ming Mang, which lay about 10 km outside of the city. The eeriness plus the rundown of the Tomb brought in a melancholy within me that I started to feel imprisoned in it. I was almost done with the tombs visit. I checked with Murali who, I suspected, was going through similar feelings(though I should say in all honesty that Murali and I do not discuss anything around feelings throughout our 25 years of friendship as we are two machos 🙂 ) . But we visited one more monument, Huyen Tran Princess Temple, and called it quits for the day. We hit upon a bar frequented by backpackers and started with our usual ritual of our backpack trip i.e drinking beer with interspersed with shots of vodka to get rid of the sadness, which filled our hearts after a glorious morning visiting the marvelous Forbidden City. We continued with our ritual till midnight and headed to the station to catch our early morning train to Danang.  I have to point out here that Hue to Danang is touted as one of the best train journeys in the world and it was unfortunate, we had to give it a miss.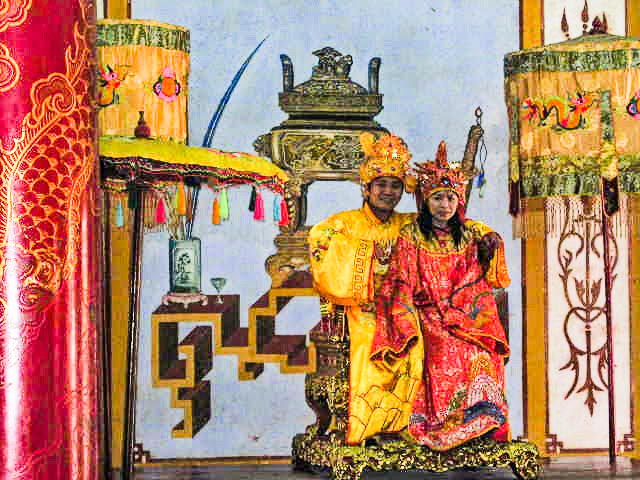 When I look back at the time spent in Hue, it was a very emotional experience for me personally. I would highly recommend visiting the city to see and experience the rich architecture of the city. Do carry a hat or a cap and a bottle of water to protect yourself from the raging sun, and explore the splendor waiting to unfurl. If you want to travel to that city, you can either take a train as I did from either Saigon traveling north or from Hanoi, traveling south. Refer to 
www.seat61.com
 for train details. If you do not have the luxury of time, Jetstar and different airlines service Hue airport but the options are very limited but one can get a ticket for as low as $30 one way.