My Cricket Mission to Jamaica
I always have a fondness to Jamaica as it is part of the West Indies cricket. I still mourn the decline of the cricket in WI since the haydays when Walsh, Ambrose, Holding, Garner, Richards etc ruled the world with their intimidating cricket skills. Cricket skills alone endeared them to many Indians like myself as they refrained themselves from exhibiting ugly non-cricketing skills, which the Aussies fancily call it as sledging.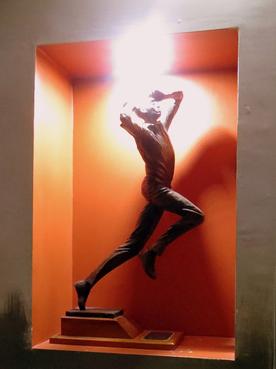 So when I made my plans to travel to Jamaica, I decided that I am going to see one of my heroes, the great Courtney Walsh. Courtney Walsh, who sent shivers down the spines of the batsmen during his time. The man who bowled with the heart of a lion, who held the record for the most number of wickets during his playing days and currently an Ambassador-at-large for Jamaica but always a gentleman to the core. I pinged him in twitter requesting to meet him and prompt came the response to my pleasant surprise, asking me to visit him in either Cuddyz, a restaurant run by him or Melbourne Cricket Club, the club which nurtured Michael Holding and him.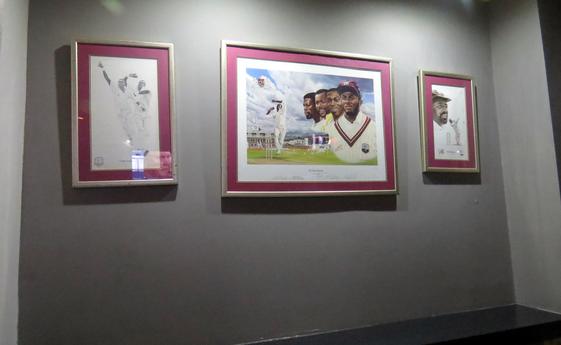 I started making preparations for my plan to meet him. There was not a second thought on what I would gift him when I meet him. My two guys (being a Gemini I always had this two guys fight it out between themselves struggling to make a unanimous decision on even minor things) had already agreed that it would be a scotch but did not decide on the brand. I visited Benz, the local liquor depot in Cedar Rapids, Iowa, which had a good collection of scotch, a rarity in these parts of mid western US. I saw some collections from the Scotch map I follow but I settled for the familiar name – Glenfiddich 15 year old.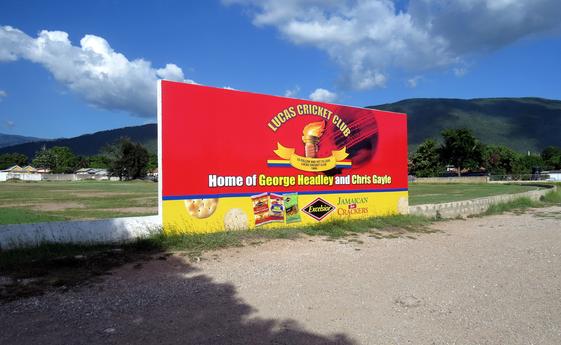 After my wonderful  trip to Portland Parish, where I stayed in Port Antonio (https://randomvoyager.com/portland/) , I made plans to visit Kingston. I spent the last evening at Port Antonio shopping looking around for a cricket ball so that I can get the autograph of Walsh on it. But they had run out of cricket ball in the sports store. I decided then I will look for some Courtney Walsh souvenir or a wallpaper but after visiting so many supermarkets, I could not find one. So I ended up buying just the marker pen so that he can sign using that on whatever I am going to get in Kingston.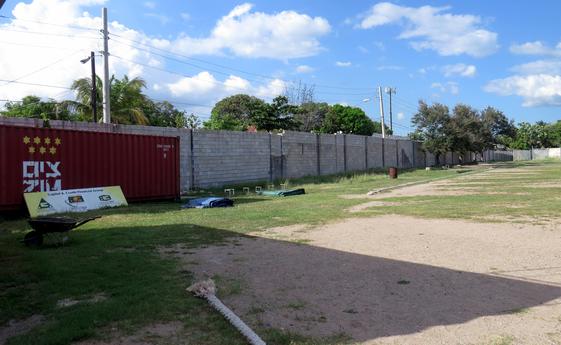 I took a morning bus from Port Antonio to Kingston – a scenic travel with mountains on one side and water on the other side as I was dreaming of meeting my hero, Courtney Walsh and various thoughts were going on in my mind . What would I say to him? take pics? then do what? get the autograph on what?  The bus itself was a local mini bus but a comfortable one and promptly dropped me near the Chelsea ave in Half way tree road after an uneventful 2 ½ travel. I checked into Knutsford court hotel in Chelsea ave around noon (the hotel thankfully accommodated me for an early check-in) One of the reasons I booked this hotel the previous day was its closeness to Cuddyz, which was just 400m away in the new Kingston Shopping Center, Dominica drive, uptown Kingston.
After refreshing myself, I walked to the Kingston Shopping center and stopped by a pharmacy and bought couple of materials hoping for Walsh to sign on – a Jamaican flag and a Jamaican bandana. Armed with these materials and my camera, I marched into Cuddyz. Did I say march? no. I was little nervous like an Indian bridegroom nervously waiting for the bride for his first night after marriage. Did anyone think that the bride is the only one who goes through the turmoil? Give a thought to the bridegroom too as he has the added pressure. Added pressure? not a topic for discussion here ofcourse 🙂
I went into the bar and approached the bartender who mentioned that the previous day would have been better as he was there. Feeling little disapppointed, I sat at the bar to have my lunch, looked up the menu filled up with items with cricket terms and ordered the ubiquitous red stripe beer and  some wings and slowly started having the food, whipping up a conversation with Denton, the young dynamic bartender, while soaking up the ambience. The statue of Walsh with his unorthodox but effective bowling action, which brought him 519 wickets, with which he bowled more than 5000 overs (the only pacer to do so) caught my eyes and provided me the scintillating feeling. I had watched the great man bowl ball after ball approaching the rib cages of the batsmen sending them to scramble around and that statue brought in all my memories flowing. I had moved to US in 1999 and since then had not watched cricket live in action or in television much, though I do follow cricket through cricinfo.com vividly.
Denton and I found a common topic to talk about as I understand my drinks (check for my rants in Food and Drinks section – https://randomvoyager.com/category/food/ ) but did not have much understanding of the Jamaican rum. He explained to me on the various Jamaican Appleton estate rums, which was pretty useful while I was having my wings and beer. I ordered curried shrimp and rice for my maincourse while thinking should I approach the manager and provide him the contact information of mine and if possible, get the information of Walsh. I refrained from it, thinking I would visit Melbourne cricket club and return back if needed.
After the friendly conversation with Denton and handing him over the scotch, I was helped by the security guard of Cuddyz in getting a taxi (the staffs were as gentle as the hero himself). The taxi driver, Eric, took me to Lucas Cricket club instead of Melbourne Cricket Club, which was a blessing in disguise, where I met Brian Beese, Program Director of Courtney Walsh Foundation. The superstar works with the local community on several projects through this foundation. After my introduction, Brian called someone and let me know that Walsh was not in Jamaica. Disappointed but not letting it out, I had further conversations with Brian, who showed me around and the place were Chris Gayle, the other hero from Jamaica was born. I could see Chris had a humble beginnings but currently a dashing star in WI and revered around the world by the cricket fans, especially the Indian fans for his famous exploits. Brian provided his card and asked me to contact him next time I visit Jamaica so that he would arrange for the meeting with Courtney Walsh.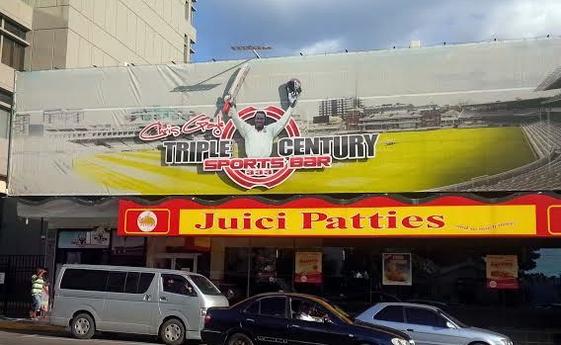 Briefly I thought of visiting Melbourne Cricket Club but skipped it and instead planned for a walk around Kingston. I came to a street, when the friendly cabbies on the pavement, showed me the nightclub after realizing that I am from India. The nightclub called Triple Century belonged to Chris Gayle. But the disappointment prevented me from seeking out the nightclub. After walking around Kingston, I retired to the hotel, had my dinner, tweeted to Walsh about my visit and went to sleep.
Next day, I took the Knutsford express bus to Montego Bay as my flight to US was that afternoon hoping to spend the new year at home. I checked my twitter with whatever the weak signal I had and there was the note in the twitter from the great hero with the below words
The note had more than made up for my disappointment and lightened up my New Year though I have the overwhelming urge now to meet him more than ever. Hoping to make another visit to Jamaica and meet arguably the greatest gentleman, cricket has ever produced.