A Travel Guide to Portland Parish, Jamaica
As I was walking down the street, the aroma of Cannabis or more colloquially called as Ganja  permeated the air. It was December but the weather was hot. My Seasonal affective disorder afflicted mind had calmed down and the low key environment had only helped. I carry a paper package with few Red Stripe beers and a jerk chicken lunch box in my hand. I felt people were happy and contented.  There were some familiar and friendly faces in the street.
The previous evening, I had a bad experience, when I had stepped on a bundle of CDs sold by a road side vendor,  as I tried to avoid a puddle of rain water. I was imagining the worse but the burly vendor smiled and asked me to walk carefully. I felt embarassed having ruined his day. I insisted on paying for the damages but he graciously asked me to go. I insisted and paid him and walked away. Those are the friendly faces I was coming across.  Suddenly something crossed my mind.  I went to him and the other vendors. Sat with them, opened up the package and distributed the Red Stripe beer. I sat in a concrete block and whipped up simple conversations with them. They had previously assumed that I am a Indian Trinidadian.
This is Port Antonio in Portland Parish, an important commercial port for Jamaica neverthless a low key place with friendly, laidback people.
When I had landed in Montego Bay, Jamaica, the previous afternoon, the Christmas eve of 2014, I was not in the best of the moods as the American Airline I flew had misplaced my baggage in Miami. Next day being Christmas, I was told there would be no delivery of the baggage as everything would be closed in Jamaica. But my mood changed in a moment's notice in Port Antonio. For the next few days, I had only the best of the time,  visiting various places. (covered in detail below)
Why you need to visit Portland Parish, Jamaica
Portland Parish, Jamaica is nestled in the northern corner of the island away from the tourist places like Montego Bay, Ocho Rios and Negril. It is served by the A4, the primary highway which connects it to Kingston and Port Maria. There are few reasons why one should try visiting Portland Parish rather than other Parishes.
It is untouched by tourism yet and you can see only the backpackers and budget travelers there.
Best offbeat place for some quiet time though it has attractions rivaling or even exceeding the regular tourist places mentioned above
Boston Beach is a surfer's paradise and especially easy for beginners with good waves but shallow waters. This is where you get some of the best Jerk chicken and Conch soup – in the shacks outside the beach (I had tried Jerk chicken at Scotchies but the chicken here tasted better)
Portland Parish has the lowest crime rate in Jamaica. Port Antonio, the capital of Portland Parish is very safe as I used to venture at 12 am in the city when I was there.
Once the Ian Fleming International airport develops, the untainted beauty will be gone as the place will be hogged by tourists, not leaving much for travelers.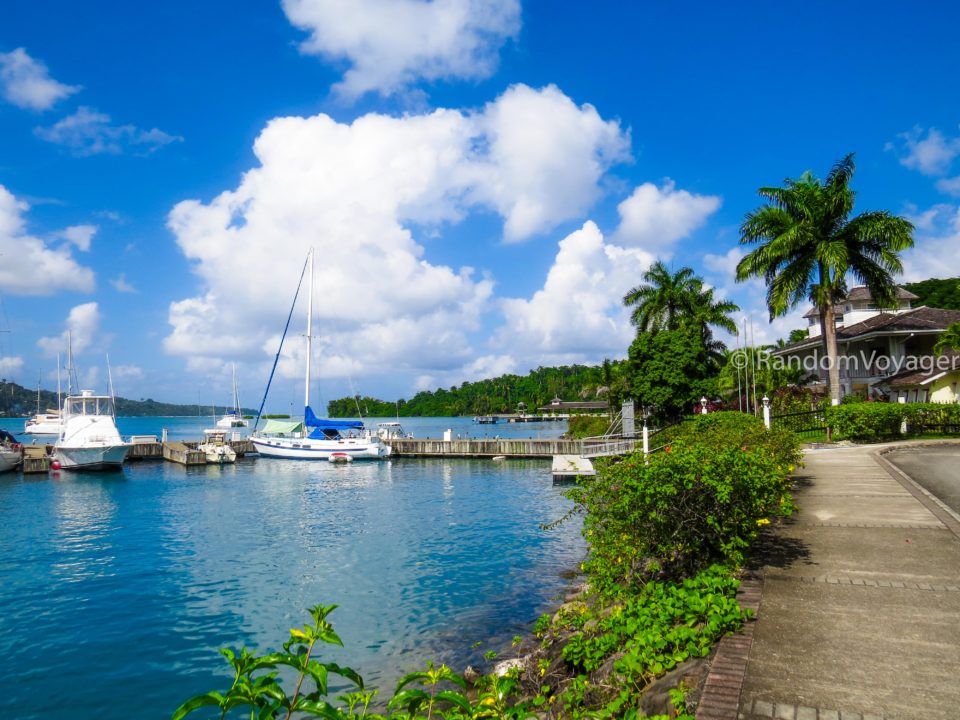 How to get there?
The best way to get there is to fly into Kingston. Take a public bus from Kingston airport to Half way tree transportation center or take a taxi. Then take a local mini bus for 500 JMD (Jamaican dollars or 5 USD roughly) from half way tree transportation center to Port Antonio. You can get to meet local people and converse with them while having a comfortable journey. It takes roughly 2 ½ hours from Kingston to Port Antonio. If you fly into Montego Bay airport, you can take Knutsford express (http://www.knutsfordexpress.com)  to Kingston (takes about 4 hours) and then continue with the above mentioned option. Remember you have to take a taxi from Knutsford express bus station to Half way tree transportation center.  Understand Knutsford is the booth 15 in Montego Bay airport. It is very comfortable and safe. If you can afford a taxi, it costs roughly around $250 (Contact Gilbert Green, his contact info provided on the side). Or rent a car if you can afford that as it makes it easy to see the Portland Parish. I regretted not renting a car myself. Remember it is a left hand side driving but apply caution while driving.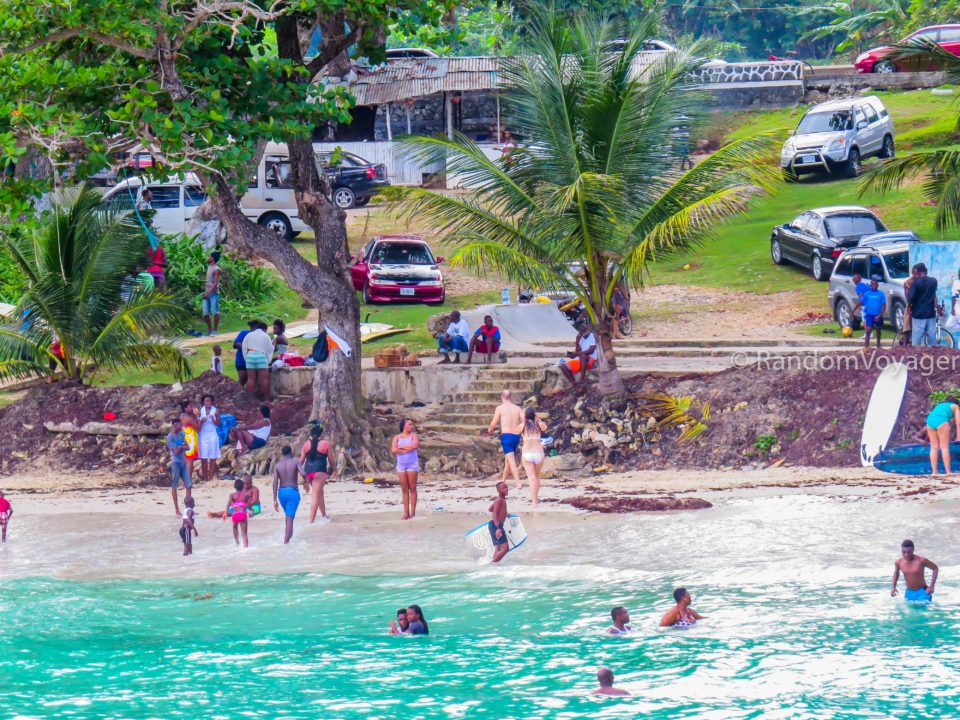 Where to stay?
There are lots of Bed and Breakfast places in Port Antonio. Look up airbnb as well. I would personally recommend Dolphin Bay Yoga guesthouse as I had stayed there and easy to get into the city using route taxis (paying 100 JMD one way) and is walkable distance from the guesthouse. Port Antonio is about 2 kms from Dolphin Bay. Tony, the owner, is pretty helpful and  available over phone (19143123504 is his phone no).  Also you have a good caretaker, Josh, who can be your local guide and teach your surfing as well. (8768759252 is his phone no and [email protected] is his email).  If you can whip up a place in Port Antonio, that will work out as well as you can have access to the numerous small restaurants and also hang out in the city in the night, which is perfectly safe. Also there are other places to stay – near Winifreds there are some B&Bs or Boston Bay Beach, if one want to spend time in the beach.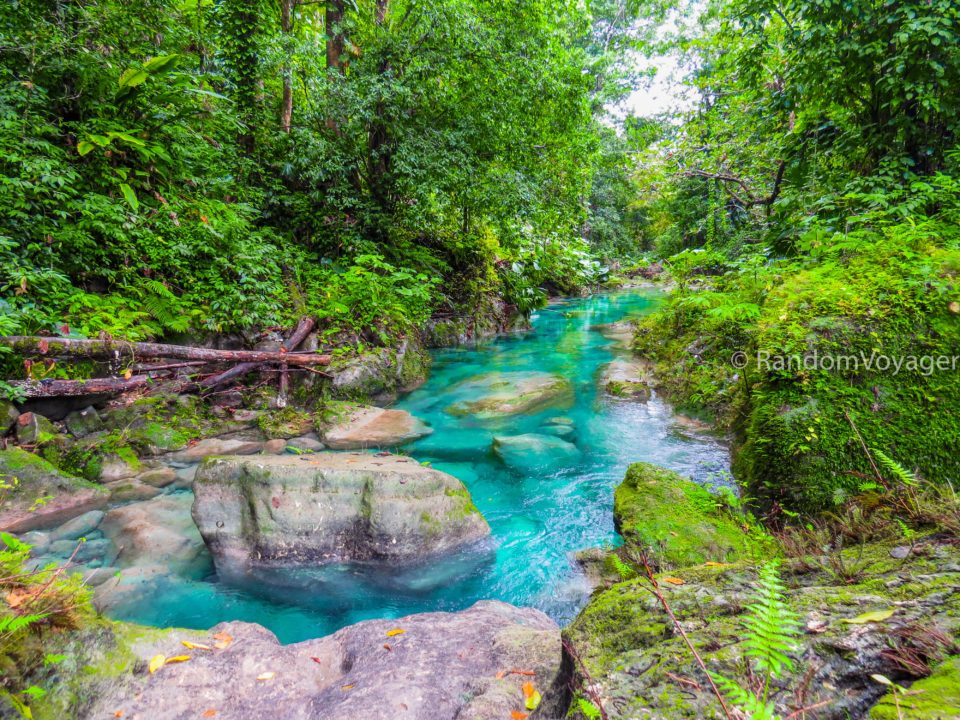 Food
There are numerous restaurants in the city – Port Antonio. If you are in city, eat at the Portland Jerk center by the Texaco gas station/taxi stand/bus stand if you want to have a quick meal (https://www.facebook.com/portlandjerk.centre?fref=ts) . The food was tasty. Be assured that they are open even on Christmas day. So you will not go hungry. But I also would suggest getting to Boston Bay Beach where there are couple of jerk centers and the Boston Jerk (how their Jerk is called) is pretty famous. They have the best jerk chicken and pork. Also try their Conch soup. It is awesome. If you want to have a nice seafood dinner, try Anna Banana (their  page – https://www.facebook.com/WiYardAnnaBanana).
For a  bar, I suggest to checkout Formula's bar in Boston Bay Beach where Al (18763963347 – Ph and email – [email protected]), one of the 2 brothers running the bar, double up as a local guide as well. I went to Errol Flynn Marina where you have a poolside bar. Also I checked into a small bar (dirty but ok for me) in front of the Kamal's supermarket.
There are luxury resorts like Trident Hotel for tourists and if one really wants to splurge there is the Trident Castle like a mile away from Trident Hotel.
Also there are numerous supermarkets where they sell different food items and drinks and you can check them out. I used to frequent this supermarket (Kamal's) in West street.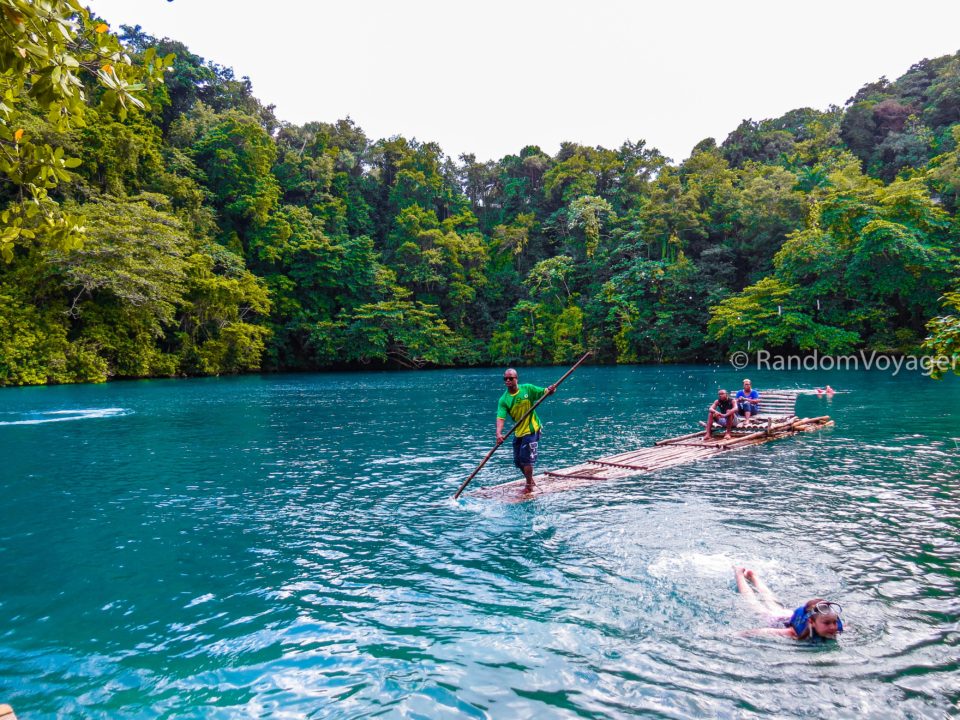 Tourist attractions
There are good tourist places in Portland Parish.
Reach Falls – similar to Dunn river falls but only better as there are no organized tourism and the hike from down below to the falls is once in a lifetime experience, which I did not feel the same in Dunn river falls. Wear sturdy beach shoes and take a waterproof camera to capture the beauty. Be warned it is a dangerous hike where couple of my guides hurt themselves. Also I suggest wearing flexible knee/elbow pads.
How to get there?  One can hire local guides to take you there. It  is about 45 mins from Port Antonio though it is difficult to get a route taxi and one had to arrange for a private taxi but would need a guide (you can contact Josh or Al mentioned above).
Boston Bay Beach – Boston Bay Beach is one of the best surfing spots in Jamaica with beautiful waves and shallow waters, which makes it easy for beginners to learn surfing. There are couple of surf shops but I would recommend Charlie;s surf store. Charlie is a Rastafarian and a surf instructor and rents out surf boards. He also has in his shop, nice hand carved items, which are excellent souvenirs to take home.(Have attached his contact information). Also hang out with the locals to get a feel of their culture and eat by the Jerk centers(mentioned above in the food section). Also check out if any parties are organized here if you want to experience the Jamaican party atmosphere. Do understand though you would see the locals smoking weed or ganja in public as they are called there, it is still illegal in Jamaica. So exercise caution regarding drugs. There is a bar by the beach to get some quick drinks or check Formula restaurant and bar to spend a quiet evening where you come across other travelers and locals and you can savor a friendly atmosphere.
How to get there? One can get a route taxi from Port Antonio to Boston Bay Beach for 150 JMD. Boston Beach is right on the road.
Winifreds Beach – A quiet beach to hangout with family though I was not impressed much.  I would recommend Boston Bay beach instead as it is much more colorful and equally safe for families. Also it is a rough hike if you do not have a car as you need to walk a distance from the road.How to get there? Get a route taxi to get there from Port Antonio and walk to the beach. If you have a car, you can get right into the beach.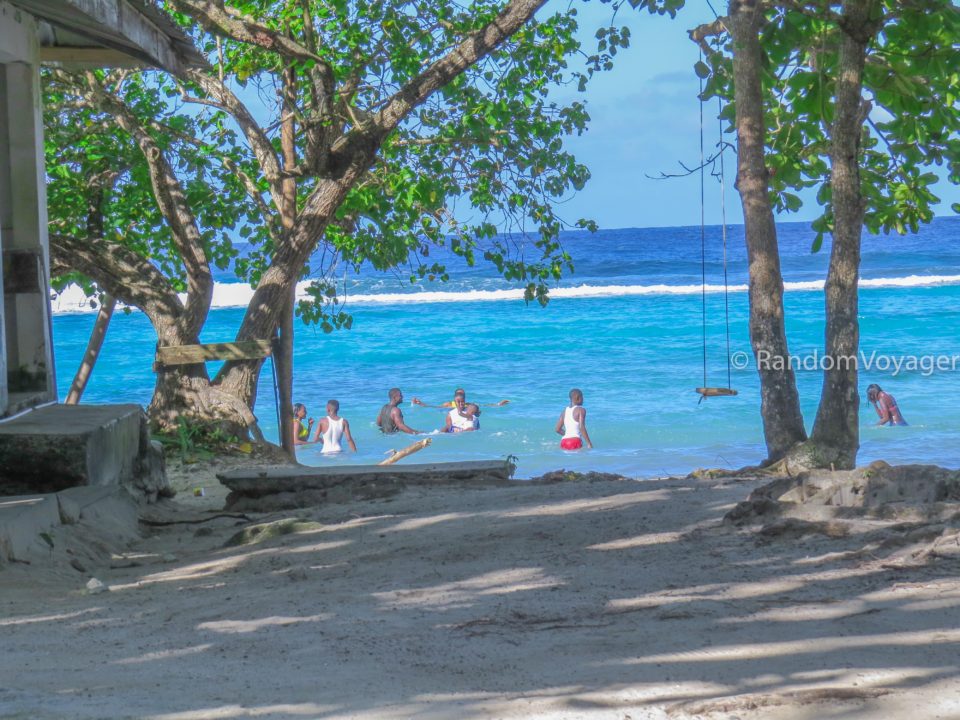 Blue Mountain – Blue Mountain, where the famous Jamaican coffee grows is an excellent place to hike. I did not come across organized tours from Portland Parish. So one had to hire local guides and it is pretty pricey. An organized tour can cost you $80(do note it is USD) while a private tour with local guides can cost $150 to $200. But negotiate with the local guides for the prices.
Blue Lagoon – The place where young Brooke Shields made her legendary splash in the movie, Blue Lagoon, and a pretty nice place to chill out, swimming in the lagoon, which has a mix of salt water and fresh water. It used to be called Blue hole but has been named Blue Lagoon once the movie got released and brought fame to the place. Take a waterproof camera to take pics. Also one can try a boat ride or a 45 min rafting for roughly $40 to $60 per trip. Sit there by Tim's shop(he also plys the rafts) and sip a cold red stripe. Also take your snorkel kit as it is an excellent place for snorkeling.
Rio Grande rafting – It is near to Port Antonio, some 5 kms away between Port Antonio and Port Maria but I would refrain from providing additional input as I did not try the rafting as I had taken the Blue Lagoon rafting.
Port Antonio – Port Antonio itself has attractions like Bikini Beach, where one can sit by a bar and have nice drinks and cherish the beauty. Else get jerk chicken and red striper beer and sit by the murky waters by the bus stand and do some people gazing. Else get sugarcanes sold out there and eat it out while doing people watching.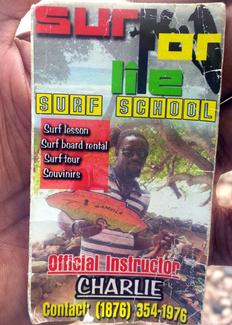 Other Information
Digicel Office is located in Port Antonio, opposite to the police station where one can get a Digicel Sim card and a prepaid plan.
Cash –  Nova Scotia bank next to the Digicel office provides USD and JMD from its ATM. Also one can exchange USD and other currencies for JMD at the supermarket(Kamal's) in West street. Do carry an identification document with you.
Souveniers can be bought in the market next to the Kamal's supermarket in West Strest like I did.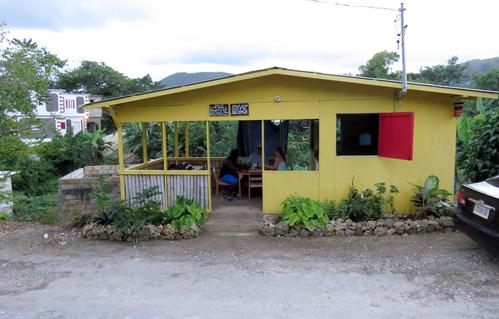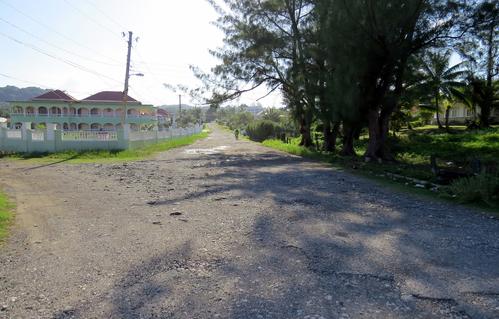 Also Read: