Dominican Republic – Land so exotic but so familiar
Dominican Republic, an exquisite little paradise in Caribbean Islands with its nonchalant, but exuberant people was in my travel radar, as it is one of the popular destinations in Caribbean due to its budget all-inclusive resort options. Do note when I say budget, it only goes for the prices, and has nothing to do with the amenities/ambiance/luxury of these resorts compared to other places like Cancun. Dominican Republic or DR is a nation sharing the island of Hispaniola with its neighbor, Haiti. There are many places in DR to visit like Samana, which is not touched much by the commercial tourism, and an excellent place for whale watching with its calves (as mentioned by my hairdresser, who is from DR, and was excited that I was planning a trip to DR) and Santo Domingo, but I chose Puerto Plata for price reasons as opposed to more established Punta Cana. There are couple of reasons why Puerto Plata is inexpensive than Punta Cana. Puerto Plata province is located  is in the northern part of the island on the Atlantic Ocean and so waters are a bit choppy as opposed to Punta Cana. The 2nd reason is Puerto Plata has more golden sand beaches (leaving out Sosua and Cabarete beaches), though it was not much of a criteria to me. I took the trip during the US Universities' spring break in March and so the prices were slightly expensive.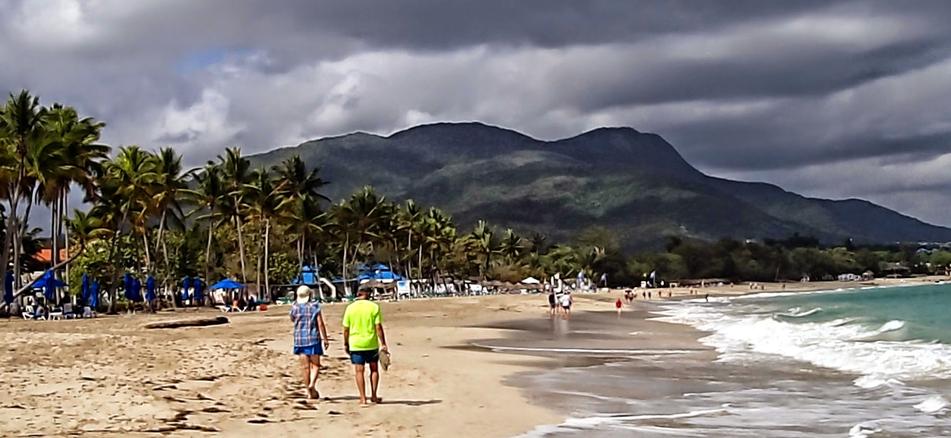 All-inclusive options offered in many Caribbean islands and Mexico include mostly roundtrip flights, resort room (meant for couples), food and drinks(including alcoholic beverages including cocktails) while kids under 12 eat and stay for free which makes it very economical and predictable for budget couples. The only additional cost would be the airport pickup/dropoffs and the tips given to the hotel staff(the hotels would say no tips are necessary but I know that the tips what we provide to the hotel staff go a long way in augmenting their earnings as DR is still a developing nation just like many other Caribbean nations. So Hema and I make it a point to get $1 bundle for $100 from nearby bank just for tipping. It is also our way of paying forward in a small way, as we ourselves had grown up from similar economic background. The resorts are mostly on the beachfront and many have isolated beaches catering to just the guests of the resorts. They normally have a minimum of 3 restaurants serving international cuisines, not including the buffet if one do not want to reserve for dinners at these restaurants. They have atleast couple of large swimming pools and bars serving beverages including alcohol with swimup bars as well. And in the evenings, they have entertainments.
           We chose the all-inclusive option this time as it was economical for us though we planned certain local trips. People in the DR are fond of dancing just like other latinos. The traditional dancing in DR is Merengue and Bachata while Merengue is more official DR dance though its origin is pretty painful. The dancing was developed  by enslaved labors working in sugar beet farms, who were bonded together in chains and so it is less exaggerated, steps-wise, when compared to other dances like Salsa, which makes it easier for someone new to pick up the steps quickly. We had a Colombian dance teacher who were teaching us Salsa while we were planning our trip and she gave us 3 classes of Merengue lessons so that it is easier for us in DR if we ever attempt to go for dancing as I heard from many DR folks known to me, that they are fond of dancing.
            When we boarded our direct flight from La Guardia airport to Puerto Plata, we saw the flight was filled with college kids on spring break and we felt like the professors accompanying them for a moment. But the mood for the vacation set in as the kids started changing to shorts and tshirts and beach sandals and sunglasses after the flight took off.
            We had chosen Gran Ventana as the resort to book after much research.  Gran Ventana is located on the Playa Dorada beach, which has golden sands. As I mentioned above, being the Universities' bring break, it was slightly pricier by couple of hundred dollars and ended up with $1040 each for a 6 night package, though we later found out one of our guests from up north, Canada, paid almost half the price as what we paid ($600). The resort was wonderful but what made the difference for us here was the racism. Did I say racism? Yes it was but in a pleasant way. I will take a slight detour here to give the background of the DR people. DR people are a mixed race people but unlike other Latin American countries, where people are a mix of white western and Native American descent called Mestizos , the DR people are mostly a mix of White western and Creole origins giving their beautiful tan color similar to the Asian Indians. Hema and I being of Asian Indian origin and had similar skin tone, many among the resort staff identified with us, and started calling us 'La Familia' meaning 'our family' in English.(Do note that DR is primarily a Spanish speaking country).  Already the resorts would treat the guests as kings and queens but now we were raised to the stature of an emperor and empress as we were not allowed to get up to even fetch our own beer in the buffet.They would deliver it to our dinner tables and it helped that we always drank 'Presidente' as the beer of our choice, which was one more connection we inadvertently established with the staff, as we always preferred the local drinks/brands wherever we travelled.
 Day 1
               For the 7 days we stayed there, we did not opt to book any restaurants within the resort, as were pretty happy with the buffet for breakfast, lunch and dinner. We chose places to go everyday as we wanted to explore as much we can in the 7 days we are there. But the first day was washed off due to the torrential rains though it did not dampen our spirits. We ended up getting additional Merengue lessons in the resort which they were offering during daytime(kind of a pleasant surprise for me), played basketball, drank lots of beer, and took naps in the lounge chairs around the swimming pools and beaches.
              In the evening, we took a stroll outside of the hotel around the Playa Dorada complex though the rain forced us back to the hotel. As we had wasted a day though it was very relaxing, we booked for a snorkeling trip to Sosua Beach from the front desk for Divecenter Merlin diving school. We relaxed with some entertainment that evening and sumptuous dinner.
Day 2
            Next day, we were picked up by the van from Divecenter Merlin from the front of the hotel and we proceeded to the diving school where the instructor accompanied us to the diving site, which is about 300 feet from the shore in a boat. I had already let the instructor know that Hema was a beginner and had Thalassophobia(afraid of deep sea). He assured it was not an issue and asked Hema to closely follow him wherever he went and taught the group few signs including the sign when in distress or in situations when they could not blow out the water from the snorkel. We started to snorkel at around 35 feet of crystal clear water and the numerous colorful fishes excited Hema and she immersed herself in snorkeling and was taking pictures using the underwater camera and for the next 45 mins it was bliss for both us. Also we had brought some bananas as per the instructor's advice to feed the fishes which brought in lots of fishes near us. I would rate this experience as one of the best snorkeling experience due to the variety of fishes we saw. The instructor was very helpful that Hema and other beginners stuck to him like chickens following the hen. We headed back to the hotel and had couple of Presidente beers and relaxed in the lounge chairs and I paid for a $20 beachside massage though I could have cut down the price if I had negotiated. But I knew it was a steal compared to US and every $ will help the masseuse. Overall it was a very relaxing day and in the evening we  walked around outside of the hotel area with the intention of checking out the dancing clubs in the Playa Dorada complex. Playa Dorada complex has 15 odd hotels and numerous shops and couple of dancing clubs but to our disappointed we found out that the dancing clubs were closed due to lack of guests. We were conversing with the local people with our basic Spanish and with the help of the Spanish phrases we were carrying around as printouts.We came across 65 year old Silvio, ex-cruise ship staff and enrolled him as a guide for the next day trip more out of the feeling that locals would know better about areas to see around. Equally we were touched that someone at that age had to work for a living. He spoke good English and knew French and Italian besides Spanish(being his native tongue).  We returned back and after one more hearty dinner and beer, we spent our time watching the entertainment of the evening, relaxing as the weather was warm(in 80s) and retired for bed.
Day 3
             Silvio met us next day at our hotel and we took the taxi to the Tele Ferico(Cable car in English). There were musicians who played the Merengue and I danced with Hema and tipped the musicians who were amused to see my awkward dancing(imagine Elaine dancing in Seinfield to get an idea about my dancing 🙂 ) , while Hema being a natural dancer had the grace.The ride up the hill was scenic, offering a panoramic view of the Puerto Plata with the Atlantic Ocean lying on the side completing the beauty.The hill had Mount Isabel de Torres or a Jesus statue similar to the Christ the Redeemer in Rio, Brazil.  Silvio took us to the coffee and pineapple plantains in the hill and walked us around allowing some private time for us to cherish and inhale the clean air and soak in the serendipity. We happened to see numerous 'Made in India' 100/125 cc motorcycles, and when we enquired the people, they mentioned that these motorcycles came in the boats. On our way to the hotel, we changed our minds and decided that we will take local transportation and venture out. We payed for the cab and tipped Silvio to his satisfaction and took the Guagua, minivan which can fit in 7-8 people easily but they were able to squeeze about 22 people as Hema sat in my lap. The passengers were kind enough to give me the window seat(maybe a case of reverse racism again 🙂 ) and we went to Cabarete beach as we had heard lots about it especially its night life when the tired kite surfers(as these were young crowd) partied all night. Cabarete beach with the winds and the waves of the Atlantic Ocean is touted as the kite surfers' paradise. We could see why when we reached Cabarete beach as there were numerous kite surfers. We had our lunch at Coco Loco restaurant which was located right by the beach. I had developed a fever by then, though my spirits was high, the fever was sapping all my energy. Hema sensed that something was wrong with me and immediately proposed to return to the hotel playing the role of nurturing wife to perfection. I was little upset that Hema could not hang around in the beach to take the pictures but I was burning with fever that we hollered for a motorcycle taxi(again a 'Made in India' 100cc motorcycle) and Hema and I pillion rode back to the hotel. I hit the bed immediately and Hema walked around the Playa Dorada beach taking the pictures of the gorgeous surroundings – golden sands with turquoise waters with mountains on both sides providing a perfect setting.
Day 4 & 5
Next day, I was weak and we just spent our time in the Playa Dorada beach though at one point I could not avoid myself and went for a sailing with the folks from the hotel next door(I was willing to pay them generous tips and they sneakily allowed me in 🙂 ). I whipped up a conversation with the sailor who mentioned he was from Toronto and visiting home and helping his friend. He had a Russian wife and he offered to take us for dancing along with his wife but I declined citing my lack of energy due to sickness. We went for a walk outside of the hotel and we hired a buggy as the buggy rider had been asking us for a ride for the past few days whenever we saw him. We had an enchanting ride throughout the Playa Dorada complex and returned back to the hotel and went to bed early. The next day I was sick pretty much and slept it off in the hotel room and beach lounge chair while Hema went for a 5 mile trek along the beach.
Day 6
 I felt better the next day but felt guilty that I had spoilt the vacation for Hema and so planned on going to Damajaqua Falls or 27 Charcos . We took a cab ride and after an hour we reached the place. Damajaqua falls is a cascade of 27 falls and one can swim and jump/slide to the next falls. We decided against taking the entire 27 falls as it would have taken the whole day and went for 8 falls. Damajaqua falls had very good safety practices in that one can't go to the falls without a helmet and floating gear. In addition, each group will be accompanied by one guide, who worked on tips. Hema and I had two guides, one in 20s and another, a teen ager. We were well taken care of by these two and I felt these were very protective considering their age. We handed our camera and this excited them as they were willingly taking our pictures. I would rate Damajaqua falls as the top attraction and I would advice the readers to try out the 27 falls setting aside the whole day. We were disappointed that we did not have much time. We tipped the two boys very well and I could see they were very satisfied as they profusely thanked us and took the ride back to the hotel. We felt upset that we had to return back the next day though we made it a point to thank the hotel staff, who were treating us as 'La Familia'.
Day 7
               The next day we took our flight reluctantly back home knowing that our time in the paradise was over and we would have to thud back to our routine lives for the timebeing. And similar bunch of Unversity kids were there in the flight as well and I could sense the mood was sombre among them.
                 It was truly a very pleasant experience, and the people calling us 'La Familia', and the numerous 100/125 cc 'Made in India' motorcycles with the tropical weather similar to India made it appear so familiar, I felt I was with my extended family in India for a moment.
Tips
 1. Explore the two popular sites offering all-inclusive packages to Caribbean and compare the prices for the dates and the hotel and book the lower of the two. We had booked several other all-inclusive trips through these sites and I never had an issue at any point. The two sites are 
www.cheapcaribbean.com
 and 
www.bookit.com
. I tried expedia, which is one of my favorite travel sites,but they were lagging in all-inclusive options compared to these sites. From my experience booking with these sites, I see prices go up when you try booking in the weekends and prices come down when you book during weekdays for the same dates/hotel/flights. I would advice that one should watch the prices for a week before booking as the prices fluctuate wildly.
 2. Book for the hotel pickup/dropoff when you book the package as it ends up cheaper but without a glitch.
 3. If all-inclusive packages are not economically viable, look for hotels around Cabarete beach, as it is the beach of action and somewhat reminded me of the backpackers' paradise in Ho Chi Minh City, Pham Ngu Lao as the tourists were mostly youngsters wanting to try out the kite surfing and the nightlife.
 4. Activities-wise, I would suggest trying the 27 falls of Damajaqua cascade setting aside the whole day. Optionally there are other activities like snorkeling which one can tryout.
 5. Tip the staff generously as even a $ can make a difference in their lives not to mention that DR people are very generous in their hospitality and kindness.
 6. Do not bring up the topic of Haiti in conversations with the locals as they share a turbulent relationship.
 7. If you carry a motorcycle endorsed license, rent one as it would be inexpensive to ride around Puerto Plata as the daily rent comes to around $25.
Also Read: