San Pedro is not the 1980s island, which Madonna found  "La Isla Bonita" in her 'True Blue" album of 1986. 30 years since, it is still beautiful though it has become very commercialized and the town is seeing the effects of it. Head there if your interest is to do people watch, drink Belizian coffee, eat Belizian food. If diving or snorkeling is your interest away in Hol Chan Marine Reserve or Shark Ray alley, San Pedro is your option. But do realize that you have an option in Caye Caulker with its white sands and slow paced lifestyle with mostly backpackers frequenting there. If one wants to spend their time on the beach, take a swim and chill out, San Pedro is not the place. To give one an idea, San Pedro can be compared with Phuket or Pattaya without the ugly underbelly.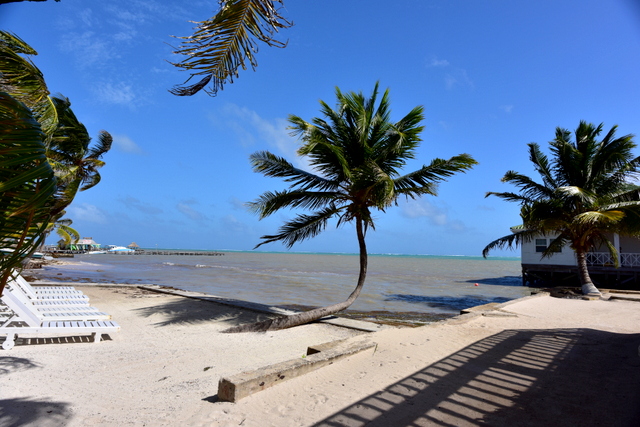 San Pedro is a town in Ambergris Caye island in Caribbean sea with cobblestone roads and Golf Carts are the primary mode of transportation. The town itself carries various kinds of restaurants with international cuisines from El-Salvadorian Pupusas to Indian Parathas. It has a local population of 13,000 roughly and many are expats who made it their home. The primary local language is English, Spanish and creole. The population is a mix of Creole and Latin American population. There are lots of options from hostels to small hotels to resorts.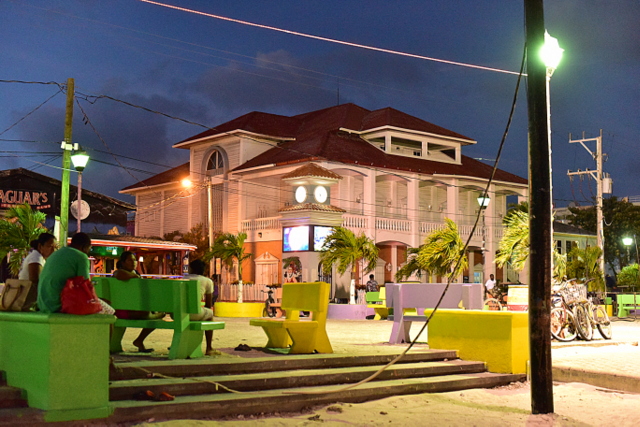 Hema and I flew from US to Belize city and took a local Cessna flight flown by Tropic Air to San Pedro, a 20 minute journey during the Christmas of 2015. Probably my expectations were sky high after Madonna's song and watching Alizee's beautiful rendition of the same song. Or I was tired from the months of stress in the corporate world, I did not feel a connection to San Pedro. But I liked the chilling out part and people gazing such that I managed to enjoy my moments out there in San Pedro.
    Though I like to snorkel, I do not prefer day trips as I feel I am wasting the whole day spending most of the time traveling. Instead I prefer to find local sites where Hema and I can carry our own snorkel set and snorkel at our own pace for few hours and head back and relax the rest of the day. This has been the norm for us in the recent times with our vacations in the islands in the Caribbean. But that is where I had my disappointment as the beaches in San Pedro were filled with sea grass and sea weeds while the garbage from Honduras washes into the beaches worsening the situation.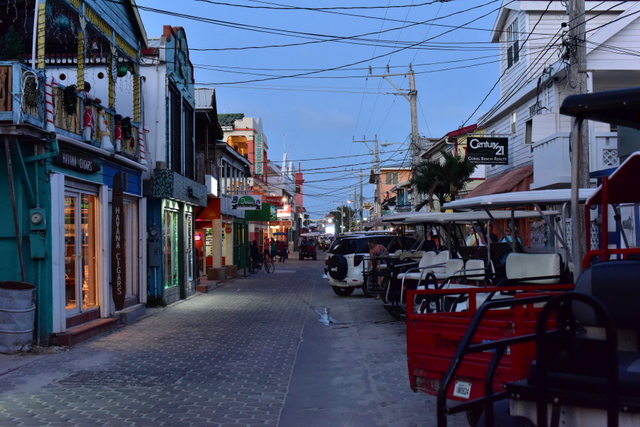 Instead we spent our time checking out the local bars by the waters, drinking beers and eating out at various places and trying different cuisines. The best decision in San Pedro was to rent a Golf Cart which made my life easier to go around the town and also cross the bridge in the North and venture into the less touristy part of the Ambergris Caye island, which is beautiful than the town itself.
     Hema and I spent our time checking out the various shops, drinking the Belizian coffee enjoying the wide spread cuisines. Certain favorites of mine and in no particular order based upon my experience are
Amber Beach Bar and Grill – try their bar by the waters for a lunch or a drink. It has El Diablo, a water slide and a trampoline which adds to the ambiance.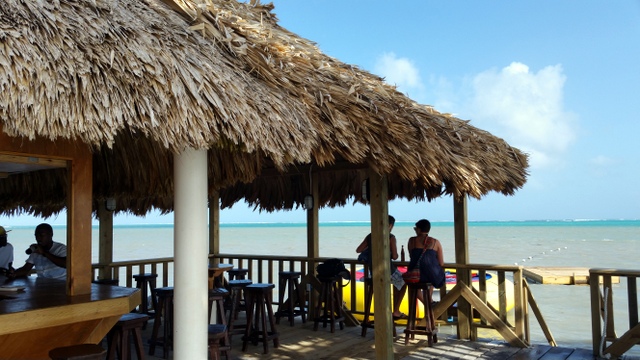 2. Pirate's Treasure Restaurant and Bar – located outside of San Pedro town but near to the bridge in the North. Has some awesome Lion Fish based dishes and tastes great with great ambiance. The Lagoon behind has lots of exotic birds and in the front, the beach is very pristine. You can book at a seat for dinner at the award winning chef and owner, Maresha and enjoy the dishes cooked by her.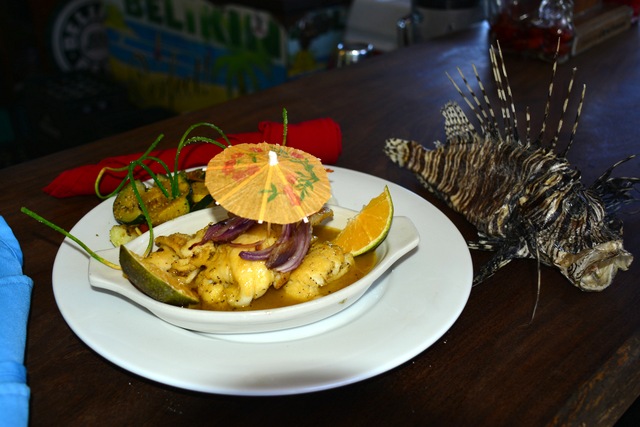 3. Average Joe's – if you like some chicken wings, head to this place.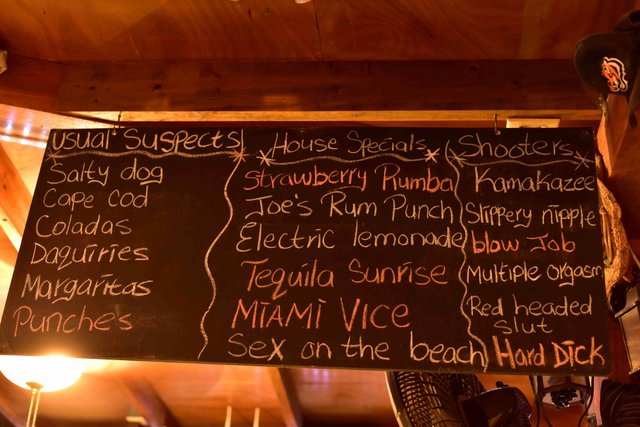 Pupuseria Hati – if you want to try some Pupusas and other foods at a reasonable price, head to this place.

Belize Chocolate Company – For chocolates and chocolate coffees. Near Belize Express Water Taxi Terminal.
And a must avoid place I want to mention here is Alibaba restaurant and my finding is consistent with other reviews for the same place in Trip Advisor. Which restaurant does not know how to cook white rice?
Bird-Watchers' Paradise
   Ambergris Caye is home to over 200 species of exotic birds and is a must-visit destination for bird-watchers. Hema preferred bird watching and so we ventured beyond the bridge in the North to the Lagoon and we were able to spot birds such as Roseate Spoonbill, Tricolored Heron, Egrets, Wood Stork, White Ibis, Black winged Stilt, Ospreys, Pelicans. Also we spotted a salt water crocodile by the Mangroves in the Lagoon.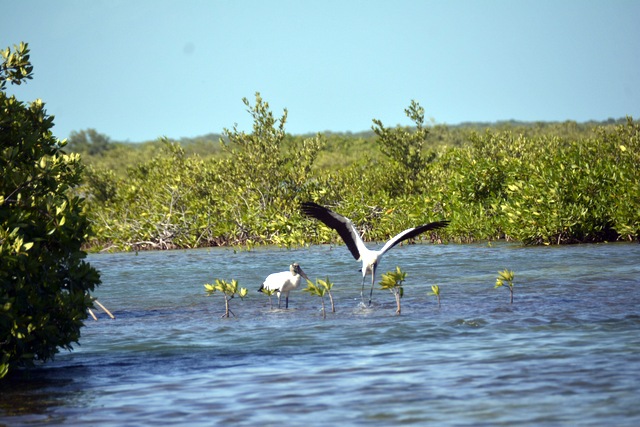 Secret Beach
The best beach is located at a remote area in the North of the island called Secret Beach. There are signs but the roads are questionable and is a 4 mile drive in a golf cart crossing over the bridge and passing through the lagoon. Look for signs to the Secret beach. Looks isolated but is secure with lots of tourists once you are there. There is a food truck but is very expensive. So get your own snacks, lunch and drinks. It is a very good place for swimming for a family though snorkeling was not as exciting.
Tips and Warnings
Rent a Golf cart as it makes it easier to move around the town. But if you have a weak back, then walking is your best option as riding the Golf carts in the Cobblestone laid streets is the worst situation your back can be in.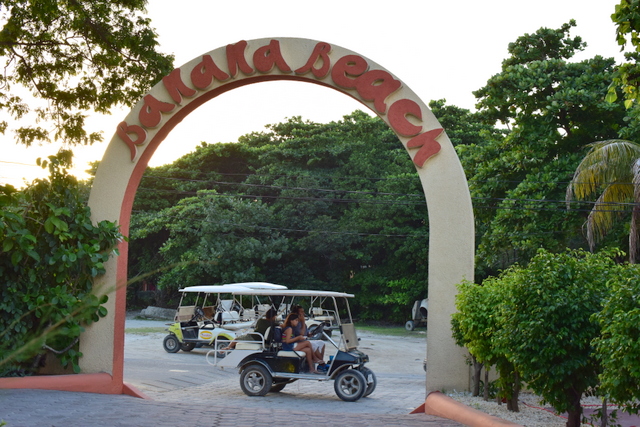 Venture into the Northern part of the island crossing the bridge(and paying a toll of 5 BZD each time you cross the bridge) to explore the natural beauty. If you are into Birding but do not want to pay for a tour, go to this part of the island and spend your time near the Lagoon. Do not venture into the waters as these waters are crocodile infested.
Belize Express water taxi is your best bet to get to Belize city if you want to proceed to Guatemala in a bus as the Bus tickets can be purchased with the Mundo Maya bus travels who are the travel agents for Fuente De Norte (FDN) and Linea Dorada bus lines, the express buses plying to Guatemala. The travel agents are located just 2 shops after the Water Taxi terminus baggage claim area. But do not book your return bus from this location as I saw they book a local mini bus, Marlin Espada and  they fill it up completely including the optional center seats. And you need to get your checked in luggages off the bus in the Belize/Guatemala border and recheck-in again which was not the case with FDN bus where you can leave your checked-in luggages in the bus while crossing the border at Melchor. Also the travel agents provide clear instructions which was helpful throughout the trip especially during the crossing of the border.
If you want to smoke a cigar, there are cuban cigars being sold in numerous shops and many of them of the Humidor to store their Cigars.
Also Read