Halwas are for people who believe no meals end without some kind of dessert. Quinoa halwa is so delicious that you will forget that this is a healthy dessert. Best thing is, you can veganize this recipe by substituting the clarified butter (ghee) with coconut oil or Almond oil. Personally coconut oil jives better with this recipe as an alternative than almond oil. But the choice is upto you.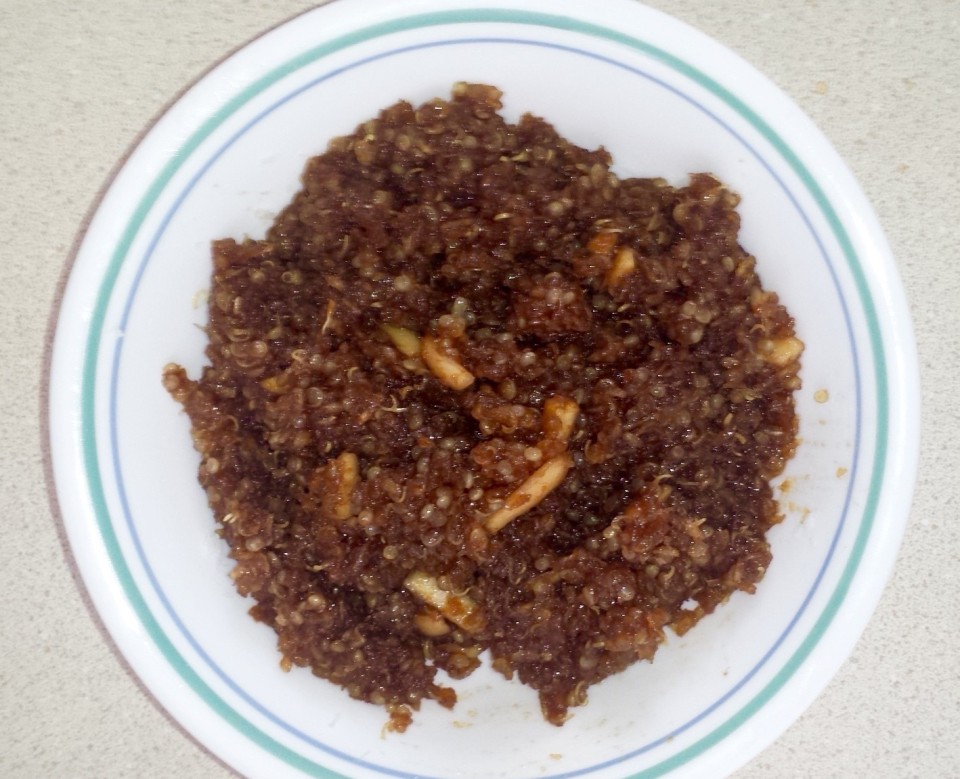 Ingredients needed :
Quinoa 1/2 cup
Water 1 cup
Coconut grated 1/3 cup
Gur       1/2 cup or less depending on how you like it. Grated
Almonds 10 – 12 chopped
Ghee/ Clarified butter 1 – 2 Tblsp ( add coconut oil or almond oil for a vegan twist )
Method:
Wash  Quinoa in cold water.
Boil quinoa and water together.
Once it boils. Simmer for 15 mins till done.
In a pan add 1 tblsp Ghee or substitute with coconut oil if you like the flavor. Add the chopped almonds saute for a minute ( does not need to brown ) add grated coconut and fry for few minutes.
Add the cooked Quinoa, add the grated Gur. Mix till the Gur melts completely.
You can add another tablespoon of ghee if you want.
Serve hot.
Tips:
Gur  and Ghee are available in Indian stores or at amazon.com
Ghee or clarified butter can be made at home by heating, melting and boiling out the solids of unsalted butter sticks. Will blog about a step by step guide to making clarified butter at home from unsalted butter sticks.
Do not to use any kind of substitute for the gur, the earthy flavor can not be achieved with any substitute.
Coconut Oil or Almond oil can be added instead of clarified butter to veganize this dish.