Celebrating womanhood – Kamakhya Devi of Assam
                      I walked around the temple and could see many goats, brought by the devotees, waiting to be sacrificed at the temple Bali Peedam. This temple was the stronghold of Sakta cult and so the tantric sacrifices and mysticism were practiced centuries ago. This is Kamakhya Devi temple on Nilanchal Hill in Guwahati, Assam, one of the 51 Shakti Peeths. I happened to visit this temple as part of my Assam travel with my sister in 2017.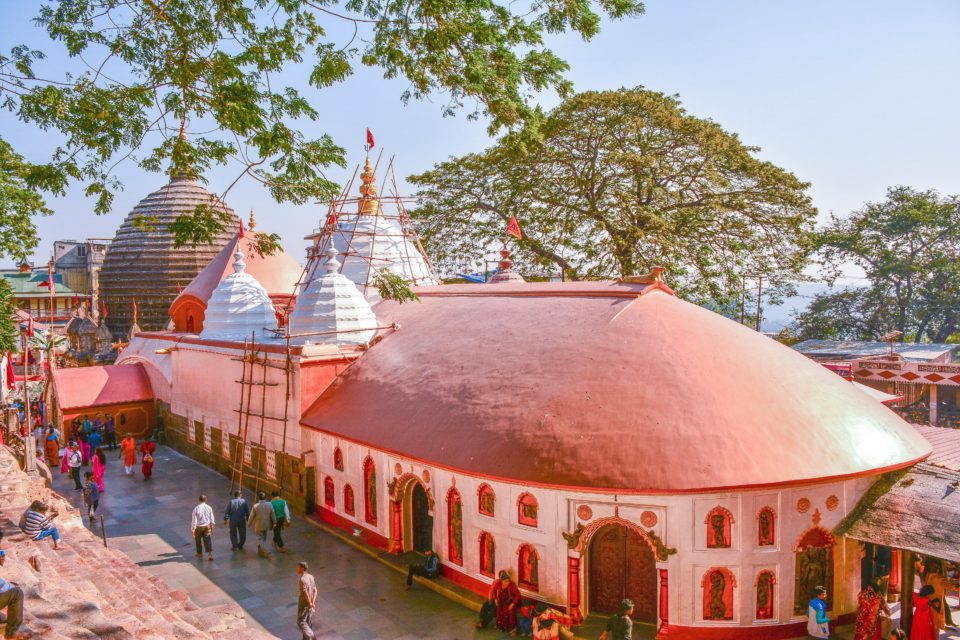 To provide the background for the temple, Kamrupa, the first historical kingdom of Assam, was considered the seat of Sakta cult from ancient times.. Saktism is accepted as a cult worship of female Goddess, Kamakya Devi,  who is the supreme deity of Kamakhya Temple. Literary evidences point that the Kamrup kings had great faith in Tantricism . The kings who ruled Assam after King Brahmapala adopted Tantricism as one of their tenets. This royal patronage led to tantric sacrifices and mysticism in the Kamakhya Temple.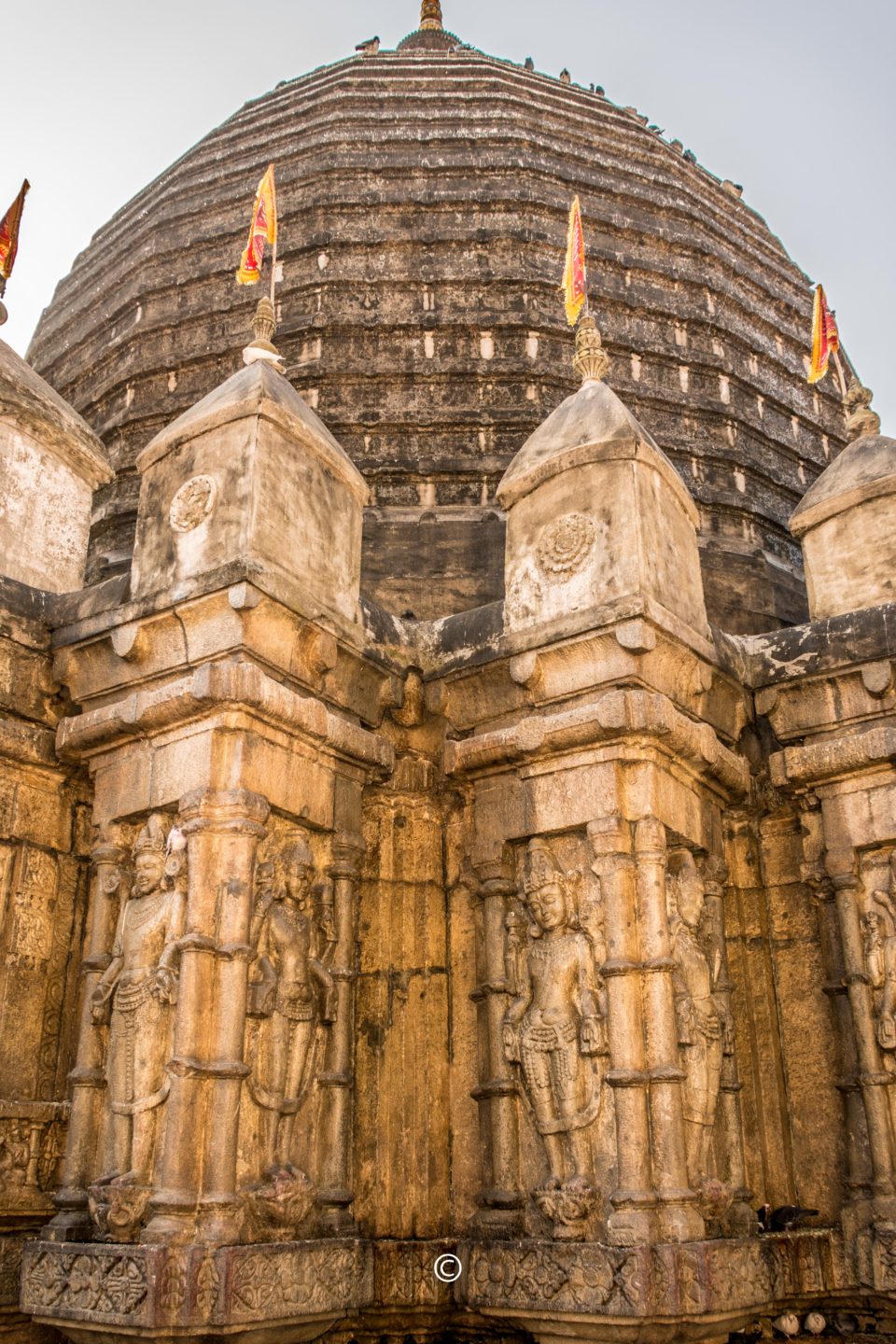 The original temple was destroyed by invaders  and the current one was rebuilt over the ruins of the old Temple by King Nar Narayana of Cooch Behar in the 17th century.  It is said that the king tried to build the Temple back with stones, but was unable to do so. One night, Goddess Parvati appeared in the dream of  Meghamukdum (to whom the responsibility of building the Temple was given to by the King)  and advised him to re-construct the Temple using bricks that were made using ghee to fire the clay blocks. When he started building the Temple as instructed by the Goddess, the Temple was completely rebuilt and finished. A radio carbon isotope age determination test of the Temple by department of Geo-sciences, University of Guwahati revealed some very amazing facts , the bottom layer of the Temple is 2200 years old, the second layer from the bottom is 1500 years old. There are no historical evidence available that can concretely point out as to when the temple was originally built, but a stone inscription during the rule of Surendravermana in 500 CE in the second layer found in Nilachal hills, helps us conclude that there was a temple here in 500CE built for Goddess Kamakhya Devi.

                    The temple is one of the 2 unique temples, the other one in Andhra, where menstruating Goddess is worshiped. The Temple is built in the Nagara style architecture. The current temple has four chambers in typical Nagara style –  the garbhagraha, that houses the main deity , jagamohan (mandapam), bhogmandir the ritual chamber and natyamandir, the dancing pavilion.
                     The temple also has sculptures of four armed Brahma, Vishnu , Surya and Shiva (many incarnations of Shiva including Bhairava or Kankalamurti roop – https://randomvoyager.com/kankalamurthy/ )
                    In the Garbhagraha or the  sanctum sanctorum,  the stone from both sides sinking downwards about 10 inches in all, giving the impression of the yoni of Goddess Sati , can be seen.  A natural spring keeps this sunken depression moist at all times.  This vulva shaped sunken depression is worshipped as Kamakhya Devi. Besides the main deity, the temple consists of 10 mahavidhyas (maha – great and Vidhya – knowledge) or avatars of Goddess Kali. These are of Bagalamukhi, Bhairavi, Bhuvaneshwari, Chinnamasta, Dhumavati, Kali , Kamalatmika, Matangi,  Tripura Sundari and Tara.
Feeling thoroughly fulfilled with the blessings of Kamakhya Devi-ma and wondering about the heterogeneity of Hindu religion and the vast difference of Hindu religious practices between regions , I walked out.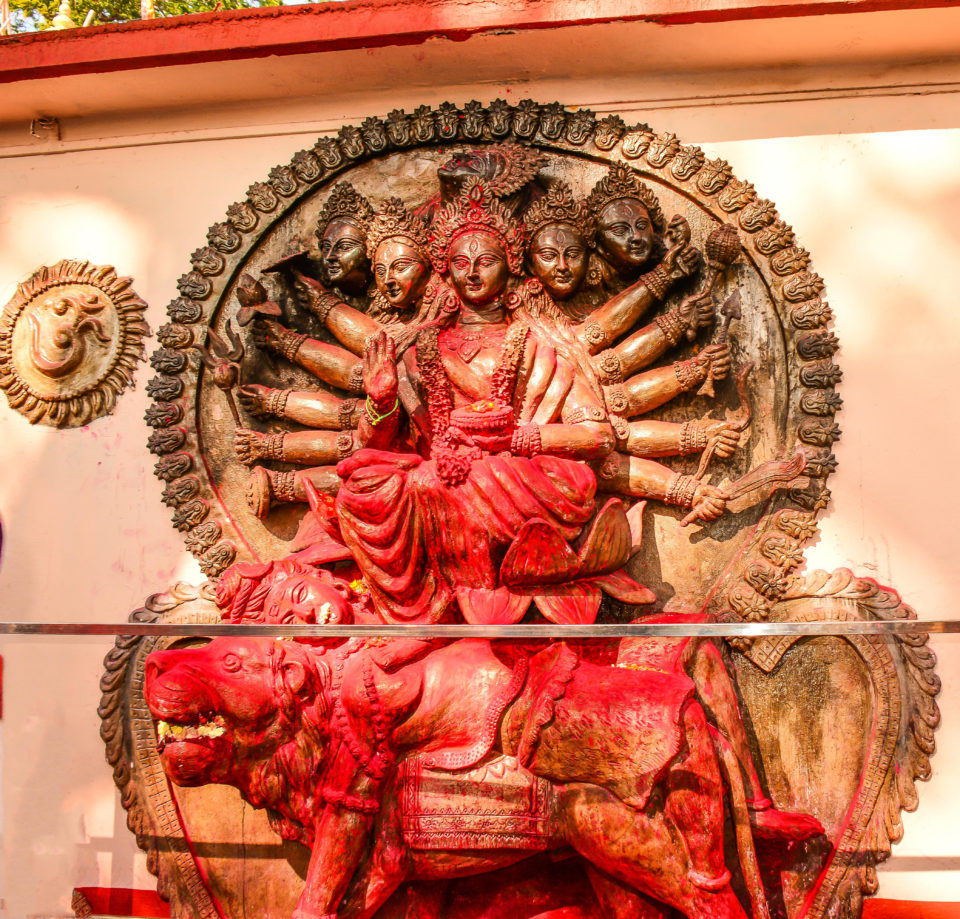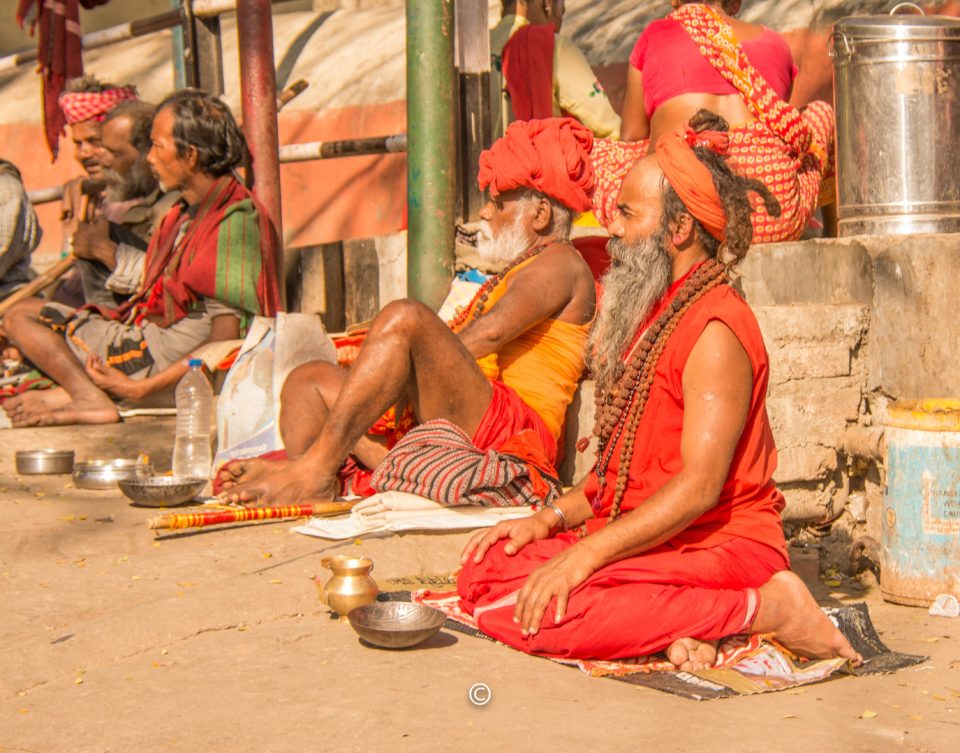 Legend of Kamakhya Devi Temple
                      The legend of Kamakhya Devi temple is very interesting. Many yugas (eons) ago on the advice of  Lord Brahma,  King Daksha and his Queen Prasuti went into a jungle and meditated to Goddess Adi-Prashakti for a daughter to be born to them. After a long penance, Adi-Parashakti made an appearance and granted them their wish for a daughter.  They returned back to their palace after their boon was granted. Meanwhile Adi-Prashaskti herself took the earthly form of king Daksha's daughter Sati/Dakshayani on the orders from Lord Brahma.  Sati grew up listening to the tales of Lord Shiva and wanted to be his consort. When she came of marriageable age,  her father King Daksha started looking for suitable groom. Princess Sati earnestly asked her father to stop the search and went into the jungles to meditate and worship so that she could marry her truest soulmate Lord Shiva. After long and hard penance,  her wish was granted. Meanwhile Brahma , Saraswati, Vishnu and Lakshmi went to Shiva  and  implored him to take a wife. He laid down 4 conditions : That his consort should be the yogini to the yogin that he was. A passionate wife, when he is a grihasta. She should not distract him,  when he is absorbed in his atman. Finally never doubt him at any instance.  He added these conditions thinking no one in this world could match up to his conditions. But unbeknownst to him,  Devi's incarnation in the form of Sati was born and ready for marriage. Brahma told him about Sati and he agreed to marry her.  He then went to the place where Sati was meditating for her wish. Rudra, in his most magnificent form, appeared in front of her and granted her wish to be his wife. Dakshya gave his daughter Sati away to Shiva with Brahma performing the wedding rituals and the wedding vows. Shiva and Sati went away to Shiva's abode, the Himalayas to live happily. Daksha later decided to do a yagna. In the yagnashala,  when Daksha entered with his queen everyone everyone rose up to greet the king, except for Shiva and Sati as it would be improper for someone in higher venerable status to stand up and greet the King. Daksha became very angry and banished everyone out. Sati left with her husband without a word. A few months later, Daksha had organized for another yagna and this time he did not invite Shiva- Sati to it. Sati came to know about through another relative and implored Shiva to go with her. Shiva declined saying that one should not go uninvited to a yagna. Shiva told Sati to go attend her father's yagna if she wanted to, but he will not attend it. Sati reached her father's place but Daksha insulted Shiva and her. This enraged Sati so much that she decided to forego her human body and died saying that she will be Shiva consort when she is born to a father,  who loves her and is proud of her.  Shiva on hearing of this started dancing the Tandava with Sati on his shoulders. Vishnu threw his sudarshan chakra in such a way that it cut up Sati's body into many pieces, that fell off of Shiva's body, thus saving the world. These pieces of body that fell in different places are called the Shakti Peeths. There are 51 in all.  Kamakhya Devi temple is one such Peeth where the yoni (vagina) of Goddess Sati is said to have fallen. So Adi-Parashakti is prayed to in the form of a bleeding yoni in the Kamakhya Devi . A special puja called the Ambubachi Puja is held when the temple opens after closing for three days in the month of Ashaad  (June in Gregorian calendar), when it is believed that Goddess is having her annual menstrual cycle.  It is said that river Brahmaputra turn red during this period.  Brahmaputra does take on a hue of muddy red, this could be due to the start of monsoon season which makes the waters of Brahmaputra gush down .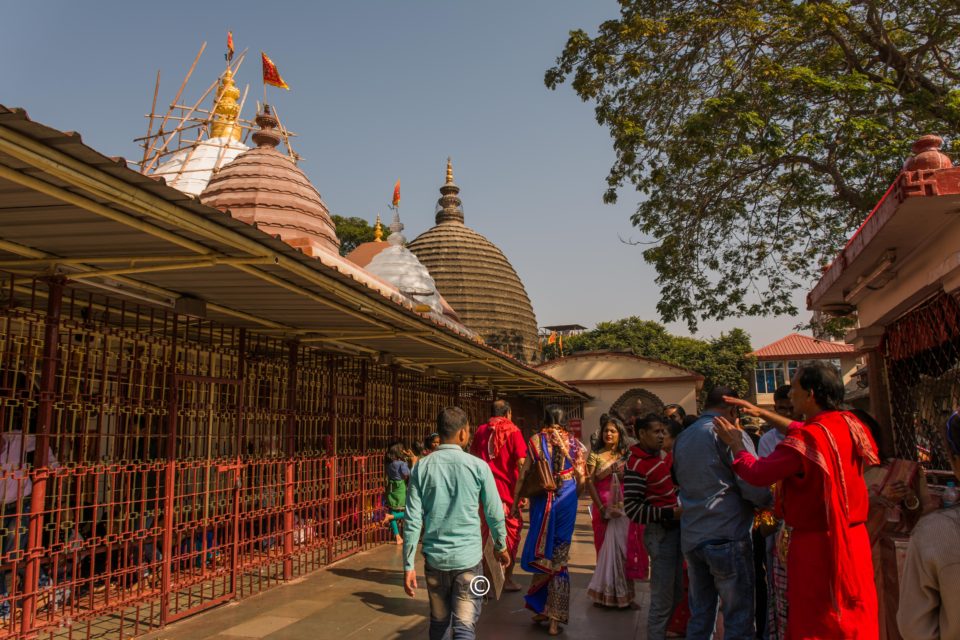 Also Read: