Cherry Blossom Guide, Washington DC
       I was living near Washington DC in Gaithersburg, Maryland for almost a year in 2000 and had traveled to the city several times subsequently to visit the numerous monuments and museums. I had heard about Cherry Blossoms of DC but never gave it a thought to visit DC when they bloomed. Cherry Blossom bloom, in my mind, was always a Japanese iconic show.  Until I had a chance to travel to DC in 2016 to watch the peak bloom and witness the gorgeous sight.  
         It is a photographer's paradise, where one can spend hours together to photograph this heavenly spectacle. Along with it, the crowds bring in the festive atmosphere with numerous food trucks around the Tidal Basin and Washington monument areas providing delicious street foods, dessert and drinks.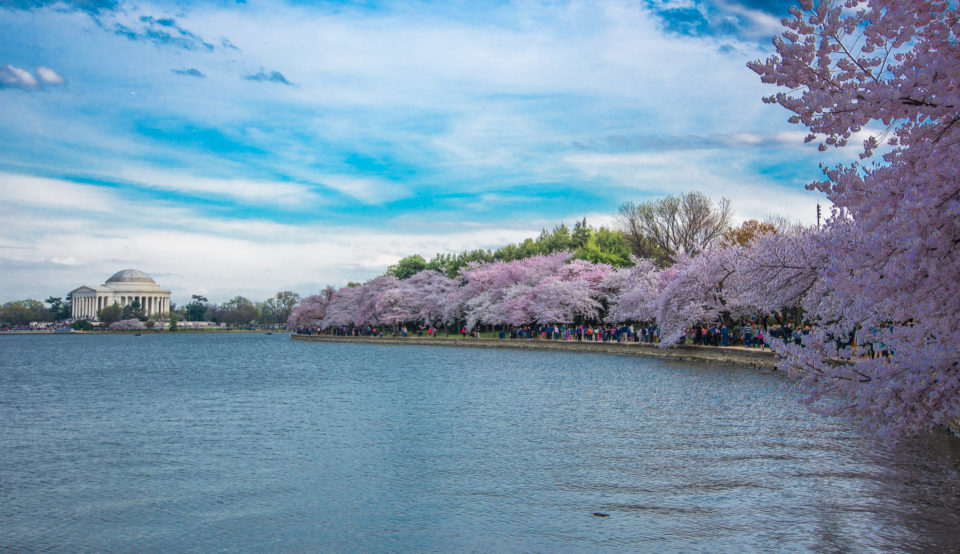 Washington DC ranks as one of the top cities in the USA among tourists  to visit due to its various museums and monuments. But the month of March makes it exciting to visit DC due to the spring blooming of its 3800 odd Cherry Blossom trees. The month of March and April attracts about 1.5 million tourists to the city to witness these Cherry Blossoms bloom.
          Peak Bloom is defined as the time when 70% of Yoshino Cherry trees bloom for few days. The authoritative source to track peak bloom is the National Park Service. National Park Service has revised their peak bloom forecast and has forecasted April 5th as the day of peak bloom for this year 2018.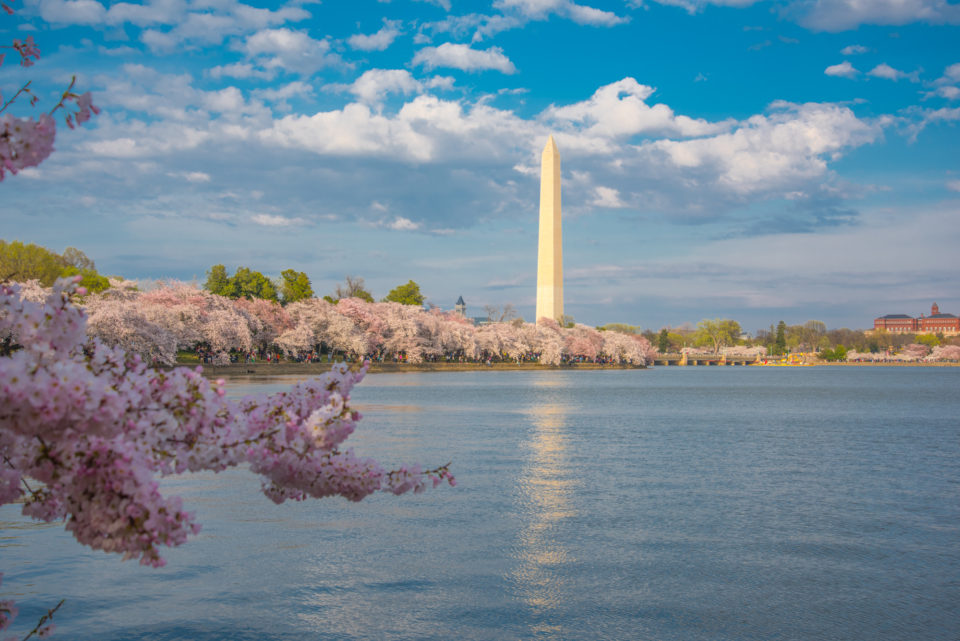 Best Place to see Cherry Blossom bloom
          The 1.8 mile Tidal Basin loop covering memorials such as Jefferson memorial, MLK Jr memorial and Lincoln memorial is the best place to see the bloom. Also the area around Washington monument is something not to be missed. The cherry blossoms are dense near the Lincoln memorial. Do check the map in the NPS site for the locations.
          Though it has nothing to do with Cherry Blossoms, do not miss out the contrast provided by the greenish Weeping willow trees in the Mount Vernon trail along the Potomac river near the Jefferson monument.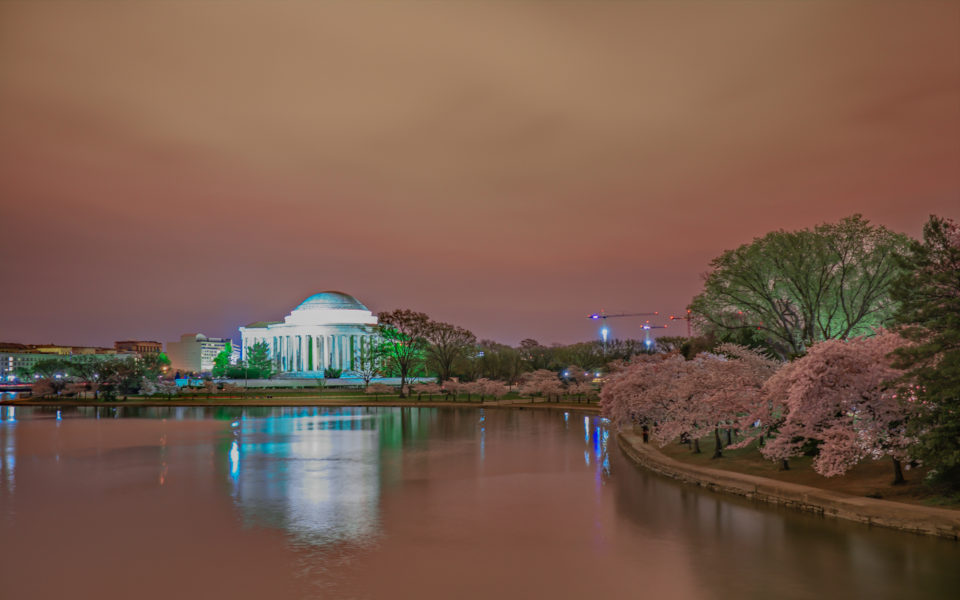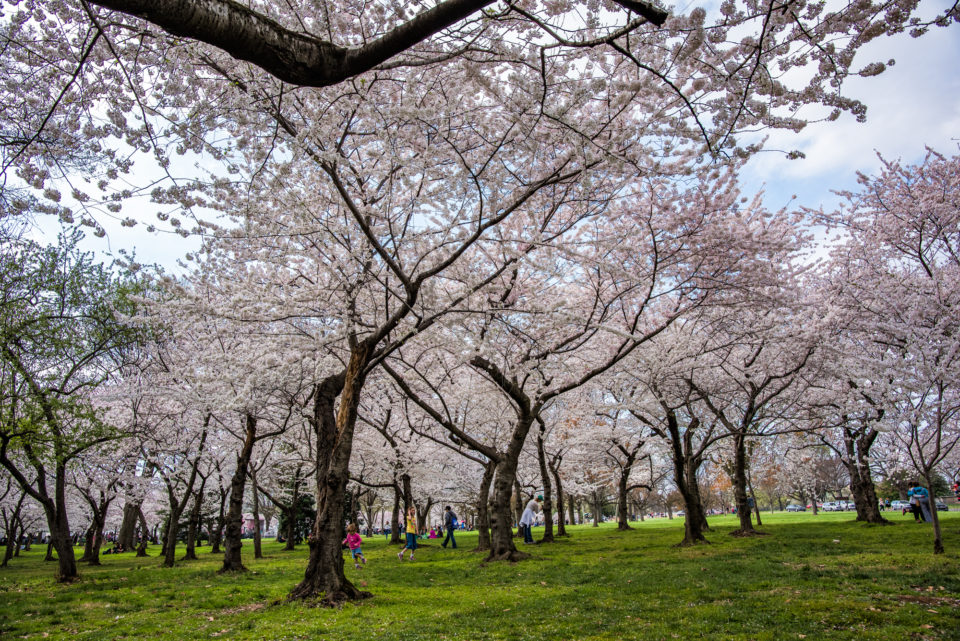 History of Cherry Blossoms in Washington DC
           In 1910, Mayor of Tokyo gifted 2000 cherry blossom trees to the city of Washington DC but they were diseased when they arrived. Not to be deterred, he again gifted 3000 trees in 1912. These trees were planted in west Potomac park along the banks of Tidal Basin. In 1965, Japanese Government gifted the city of DC with 3800 Yoshino trees. From that meagre beginnings today after 100 years, Cherry blossom bloom is celebrated as a festival for a month in the months of March and April.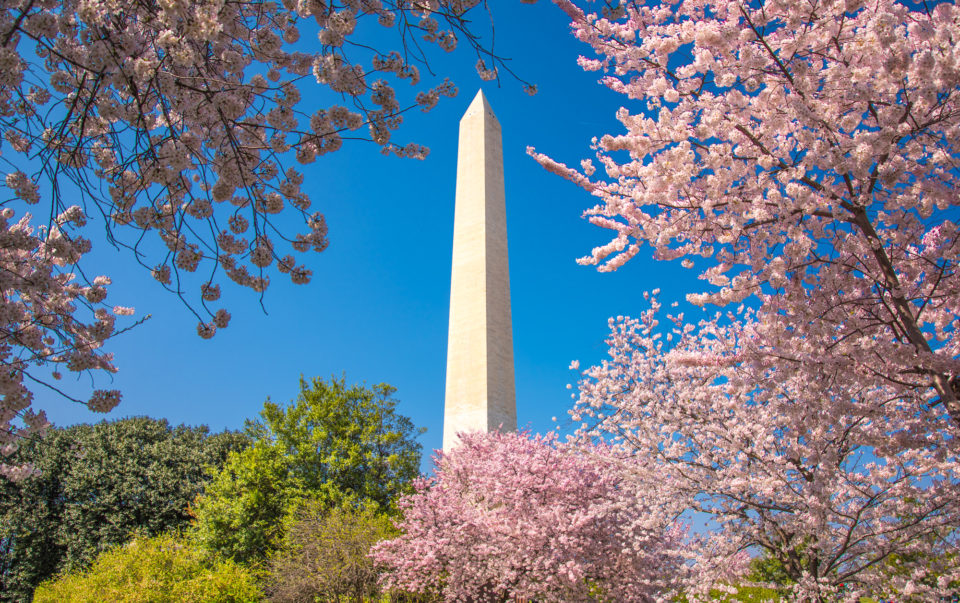 Cherry Blossom Festival
           There are several events which happen as part of the Cherry Blossom festival.
Noteworthy events are
Pink tie party by ANA – March 16th 7 pm – 11 pm  – 1300 Pennsylvania Avenue, Ronald Reagan Building and International Trade Cente –  food and drinks accompanied
Blossom Kite festival – April 1st – Washington Monument Grounds
Japanese Stone Lantern Lighting Ceremony on Apr 2nd 3 pm – 4:30 pm –  Tidal Basin area, Independence Ave and 17th Street, SW
National Cherry Blossom Festival Parade – April 8th 10 am  – 12 pm –  Constitution Ave between 7th to 17th streets, NW  
Sakura Matsuri Japanese Street Festival on April 8, 2017 – 10:30 am to 6 pm – Penn. Ave, NW (between 9th and 14th Streets)
Southwest Waterfront Fireworks Festival April 15, 2017 –  1 pm to 9 pm (fireworks –  8:30 pm) – Southwest Waterfront (Waterfront-SEU Metro)
Where to stay
      During my several visits to DC, I had stayed in hotels like Renaissance Hotel, Downtown DC and Capitol Skyline hotel and few B&Bs near Capitol Hill and prefer taking cabs everywhere in DC.
For convenience, here are few hotels below –
Mandarin Oriental – 0.6 miles from Tidal Basin
Courtyard Washington, DC/Foggy bottom – 0.7 miles from Tidal Basin
State Plaza hotel – 0.8 miles from Tidal Basin
     If one is looking for budget accommodation, I suggest staying in Maryland or Virginia and take a metro to L'Enfant Plaza station, 7th Street & Maryland Avenue exit, which is only an extra 10-minute walk.  Please do note that only Blue/Yellow/Green lines ply to L'Enfant Plaza station